Published on
October 23, 2016
Category
News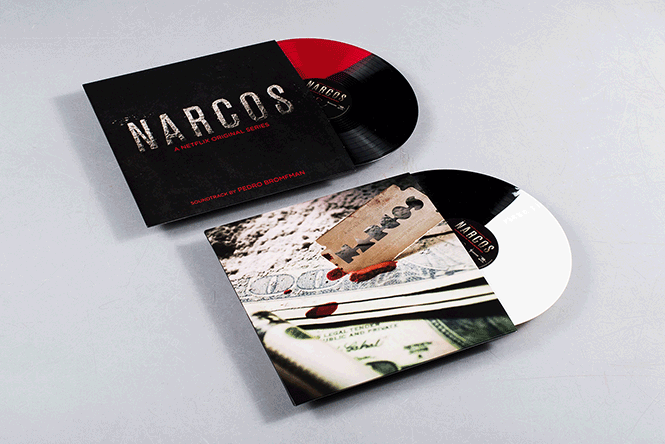 Devastatingly addictive.
Thanks to Stranger Things and Narcos, Netflix subscriptions have surged this year. Set and filmed in Colombia, the latter is a chronicled look at the criminal exploits of Colombian drug lord Pablo Escobar and the Medellín Cartel, and the footsteps of the DEA officers that were brave enough to try and stop him.
The vinyl edition for the series has been created by Geoff Barrow's Invada label, who have spoiled us with physical items for Bone Tomahawk, Nightcrawler and Ex Machina in the past year. Designed by Marc Bessant, Narcos arrives on double coloured vinyl: one a cokey blur of white-black, the other a potent red-black mix. Gaze at the package in the gallery:
The soundtrack features classic cumbia (e.g. 'Tabaco y Ron'by Rodolfo y su Tipica) and salsa (e.g. 'Fruko y sus Tesos' by El Preso), as well as instrumental cues by Brazilian composer Pedro Bromfman, who previously soundtracked Brazilian crime thriller Elite Squad. The 28-track release also includes the show's theme song 'Tuyo', written by Brazilian singer-songwriter Rodrigo Amarante. Hear snippets and place orders here.
Tracklist:
01 'Prologue'
02 'Tuyo' (Theme song by Rodrigo Amarante)
03 'Colombian Army'
04 'No Amnesty'
05 'Cockroach and Pinochet'
06 'Meet Gacha and Escobar'
07 'Easy Money'
08 'Agent Murphy'
09 'The Perfect Product'
10 'Cocaine Labs'
11 'Colonel Carrillo'
12 'Pablo's Sword'
13 'Palace Of Justice'
14 'Baby Girl'
15 'Urban Chase'
16 'Flying Drugs'
17 'Murphy's First Kill'
18 'Gacha's Troubles'
19 'Kidnapped'
20 'The Spaniard'
21 'President Gaviria'
22 'Recruiting Soldiers'
23 'The Tax'
24 'Turbay and Gorilla'
25 'Pablo Grieves'
26 'Cat Killers'
27 'Mcpickle'
28 'This Is Home'