Published on
May 27, 2016
Category
News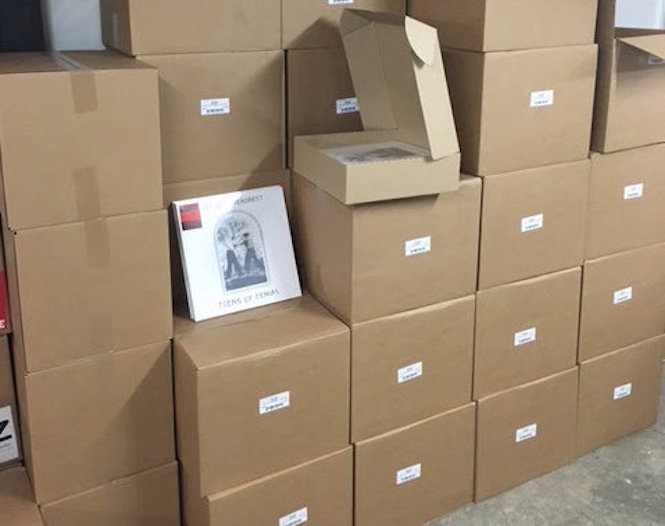 The debacle cost the label more than $50,000.
A few weeks ago it emerged that Matador had recalling physical copies of indie-rock band Car Seat Headrest's new album Teens of Denial over licensing issues. It's now been revealed that 10,000 vinyl records were destroyed in the process, at a cost of at least $50,000.
Teens of Denial originally featured a song called 'Just What I Wanted/Not Just What I Needed', which borrowed elements from The Cars' song 'Just What I Needed'. Matador received clearance for the sample months ago, only to find out on the eve of the release that the publishing house involved wasn't actually authorised to license the track and that Cars leader Ric Ocasek had pulled the approval.
Within 48 hours, the band re-recorded the track (now, fittingly, titled 'Not What I Needed') just in time for its May 20 digital release. Meanwhile, the physical copies had to be destroyed, moments after rolling off the press.
"This is definitely an unprecedented situation," Matador head of sales Rusty Clarke told A.V. Club. "We've never had to actually recall an album from retail before. We'd had it up for pre-order since March, so it had accrued a fair number of pre-orders at iTunes and Amazon and Google Play."
The debacle cost the label more than $50,000 and counting. "It could look even more grim, because this is also a worldwide release," Clarke continued. "It's a substantial cost."
"For the label, this was a nightmare situation," Car Seat Headrest's Will Toledo said. "People were crying; people were not happy about it." Toledo also spoke out about Ocasek's decision to block the sample:
"What the conversation revolves around is not the art itself at all, and that's the only part of it that really seems wrong to me. I don't think that Ric ever listened to the album or the song, which is the only part that really bothers me. He can do whatever he wants and it's his right to do so. But I just hope that if I ever get to the point of being where he is, and a situation like this comes along, that my first reaction would still be, 'Okay, well, what's the song?' I would want to listen to it first and see what, artist-to-artist, what's going on, rather than it be my manager telling me they're doing something bad, let's sue them, and saying, 'Okay, I'm mad now. I have no idea what the situation is, because it's removed by many people from me, but that seems to be the situation here."