Published on
March 18, 2014
Category
News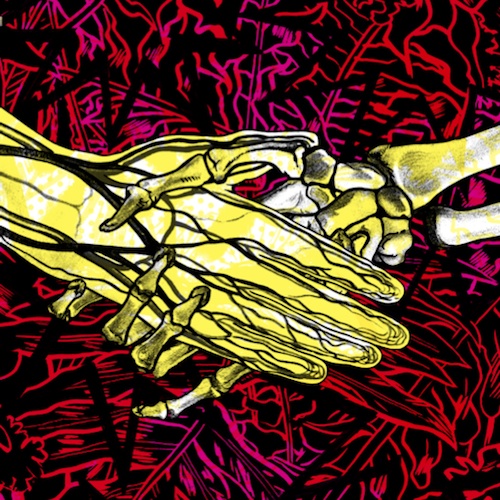 Battle Box 003 limited to 500 copies and available to order now exclusively from The Vinyl Factory.
Robert '3D' Del Naja has renewed his working relationship with TV On The Radio frontman Tunde Adebimpe to release a pair of killer remixes of Adebimpe's Higgins Waterproof Black Magic Band project. Having collaborated first in 2009 on Massive Attack's 'Pray For Rain', Del Naja has been let loose on a brace of tracks from the outfit's self-titled 2013 debut EP for the latest in his hugely popular Battle Box series.
The first track, 'Mad Lifeline', is a brooding epic, pitching Adebimpe's reverb-heavy vocals and haunting whistles over rolling desert blues evocative of the most desolate, parched landscapes, while on the flip, 'WPIC' takes a more confrontational approach; a post-punk diatribe parred down and reconfigured as dark and insistent electronica with shades of Massive Attack at their most abrasive. You can listen to 'Mad Lifeline' below:
A reflection of their relaxed creative relationship, 3D outlines the story of the collaboration in light-hearted terms, saying: "I constantly stalk Tunde with instrumentals! In revenge he sent me the Higgins album and I picked 2 tracks that I thought would be fun to remix. Now that's sorted, I'll get back to harassing him with loops."
Entitled Higgins in 3D, the release is the third in Robert Del Naja's Battle Box series in collaboration with The Vinyl Factory, and follows 2012's project with Guy Garvey and last year's 3D on Jupiter, which saw Del Naja join forces with Congolese Africa Express artist Jupiter on two sinewy electronic cuts which have since sold out.
Battle Box 003 – Higgins in 3D is limited to 500 copies and features hand screen-printed artwork by Paul Insect and is available to order now exclusively from The Vinyl Factory online shop.
It's been a busy year already for Del Naja, who has also recently published the first ever visual history of Massive Attack with the Vinyl Factory. The 400-page hardback 3D and the Art of Massive Attack is available as a limited edition vinyl box set, featuring a previously unreleased Massive Attack 12″ and unique signed screen-printed. Find out more and order a copy here.