Published on
September 29, 2016
Category
News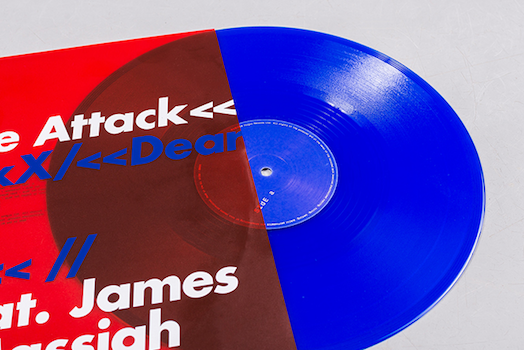 Featuring spoken word artist James Massiah.
Massive Attack will release their new single 'Dear Friend' on stunning blue 12″ vinyl via Battle Box and The Vinyl Factory.
Housed in a screen-printed red perspex sleeve, the single was previously only available at the band's Bristol show in early September but will now get a wider vinyl and digital release.
Co-written by Massive Attack's Robert del Naja and Euan Dickinson, 'Dear Friend' was previewed last month on the band's Fantom app and features poet and vocalist James Massiah. It will now appear on vinyl on the Battle Box imprint, set up by del Naja with The Vinyl Factory, and through which he has released a string of collaborative EPs.
It's been a busy few months for the band, who have already released a number of stunning videos to accompany their Ritual Spirit EP which also dropped on vinyl earlier this year, the limited screen-printed edition of which sold out in no time.
'The Spoils' b/w/ 'Come Near Me' has also pressed on lavender vinyl 12″ and will be available from 30th September.
Check out the 'Dear Friend' vinyl edition in more detail below and order your copy here.
Post updated: 29th September 2016