Published on
March 28, 2018
Category
Label News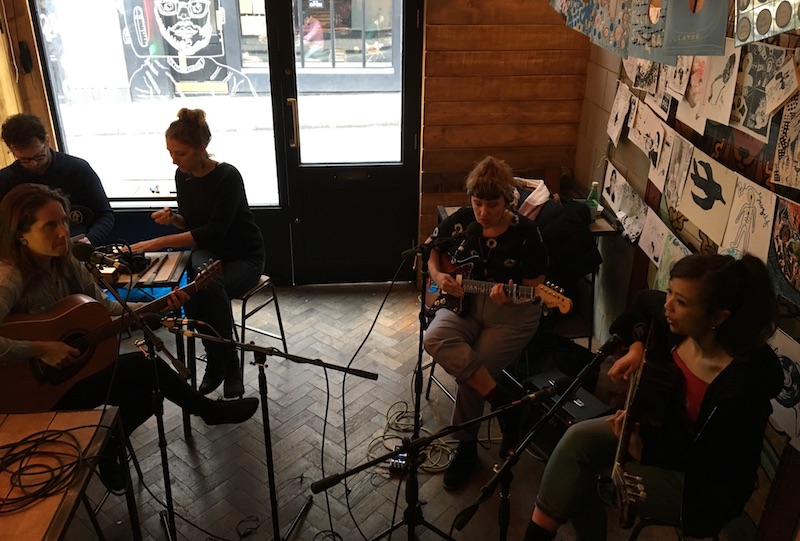 Featuring four tracks from their debut album Fable Electric.
Following the release of their debut album with The Vinyl Factory last week, London-based band Marine popped into Soho Radio with guitars and shakers in tow to join VF Editor Anton Spice for a special live acoustic session.
Broadcast live, the four-piece played four tracks from the records – 'Mount Olympus', 'Selkie', 'Big Dog' and 'Aesop' – each of which corresponds to a fable or myth. Drawing on a range of influences Cara, Kaja, Beth and Ruby also each brought a track that has inspired them, from ESG to Billie Holiday.
You can listen to the live session below:
In the second hour it was back to business with a selection of new music making waves at VF this month, featuring a brace of boogie-down Stones Throw releases, Ghanaian highlife from Ebo Taylor, Japanese video-tape cut ups and the first single from rising London-based vocalist and producer Tony Kjoku.
Listen to the show in full and check out the tracklist below:
Cheikh NDiguël Lô – Set (World Circuit)
Ebo Taylor – Aboa Kyirbin (Mr Bongo)
Marine – Sirens (The Vinyl Factory)
Marine – Live in session
Marine – Mount Olympus (The Vinyl Factory)
Marine – Selkie (The Vinyl Factory)
Marine – Big Dog (The Vinyl Factory)
Marine – Aesop (The Vinyl Factory)
Marine – Anima (The Vinyl Factory)
Marine – Ariel Avengers (The Vinyl Factory)
Prince – Gett Off (Paisley Park)
Billie Holiday – You Go To My Head (CBS)
ESG – Erase You (Pow Wow Records)
Ani DiFranco – Marrow (Righteous Babe Recordings)
The Expansions – Ivory Mountain (Albert's Favourites)
Prophet – Insanity (Stones Throw)
Stimulator Jones – Give My All (Stones Throw)
Low Jack – Robert (Editions Gravats)
Tony Njoku – Remain Calm (Silent Kid)
Joe Armon-Jones – Starting Today (Brownswood)
Videotapemusic – Hot Pants In The Summer Camp (180g)
Edu Passeto & Guy Tavares – Sabiá na Palmeira (Far Out Recordings)
Will DiMaggio – Uh Uh Oh (Future Times)
Kimiko Kasai & Herbie Hancock – I Thought It Was You (Be With Records)
Marine play live at Rough Trade East tonight, 28th March from 7.30pm