Published on
February 7, 2018
Category
News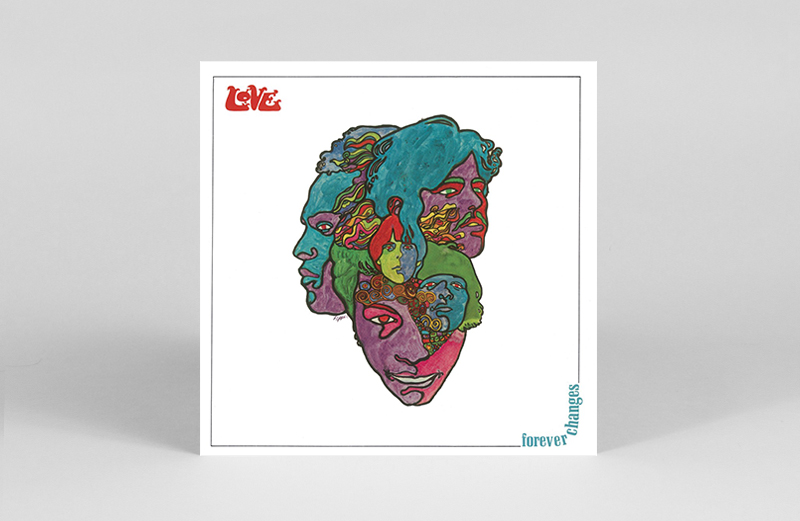 A seminal record of the 1960s.
American band Love are releasing a special box set of their 1967 album Forever Changes, this April via Rhino.
Read more: The 50 best alternative records of the 1960s
Though Forever Changes wasn't commercially successful when first released, it has since become critically regarded as an iconic rock album – mixing jazz, folk, blues flamneco and orchestral pop influences.
The 50th anniversary Forever Changes box set is housed in a 12″ x 12″ hardbound book case and includes Bruce Botnik's stereo remaster of the LP, four CDs and a DVD with the 24/96 stereo mix of the album.
Listen to 'Alone Again Or' and check out the track lists below ahead of its 6th April release.
Tracklists
LP: Forever Changes stereo
Side A
1. Alone Again Or
2. A House Is Not A Motel
3. Andmoreagain
4. The Daily Planet
5. Old Man
6. The Red Telephone
Side B
1. Maybe The People Would Be The Times Or Between Clark And Hilldale
2. Live And Let Live
3. The Good Humor Man He Sees Everything Like This
4. Bummer In The Summer
5. You Set The Scene
CD 1: Forever Changes stereo
1. Alone Again Or
2. A House Is Not A Motel
3. Andmoreagain
4. The Daily Planet
5. Old Man
6. The Red Telephone
7. Maybe The People Would Be The Times Or Between Clark And Hilldale
8. Live And Let Live
9. The Good Humor Man He Sees Everything Like This
10. Bummer In The Summer
11. You Set The Scene
CD 2: Forever Changes mono mix
1. Alone Again Or
2. A House Is Not A Motel
3. Andmoreagain
4. The Daily Planet
5. Old Man
6. The Red Telephone
7. Maybe The People Would Be The Times Or Between Clark And Hilldale
8. Live And Let Live
9. The Good Humor Man He Sees Everything Like This
10. Bummer In The Summer
11. You Set The Scene
CD Three: Forever Changes alternate mix
1. Alone Again Or
2. A House Is Not A Motel
3. Andmoreagain
4. The Daily Planet
5. Old Man
6. The Red Telephone"
7. Maybe The People Would Be The Times Or Between Clark And Hilldale
8. Live And Let Live
9. The Good Humor Man He Sees Everything Like This
10. Bummer In The Summer
11. You Set The Scene
12. Wonder People (I Do Wonder)" – Outtake – Alternate Mix
CD Four: Forever Changes singles and outtakes
1. Wonder People (I Do Wonder)
2. Alone Again Or – Single Version
3. A House Is Not A Motel – Single Version
4. Hummingbirds – Demo
5. A House Is Not A Motel – Backing Track
6. Andmoreagain – Alternate Electric Backing Track
7. The Red Telephone – Tracking Sessions Highlights
8. Wooly Bully – Outtake
9. Live and Let Live – Backing Track
10. Wonder People (I Do Wonder) – Outtake, Backing Track
11. Your Mind And We Belong Together – Tracking Sessions Highlights
12. Your Mind And We Belong Together
13. Laughing Stock
14. Alone Again Or – Mono Single Remix
DVD: Forever Changes 24/96 stereo mix
1. Alone Again Or
2. A House Is Not A Motel
3. Andmoreagain
4. The Daily Planet
5. Old Man
6. The Red Telephone
7. Maybe The People Would Be The Times Or Between Clark And Hilldale
8. Live And Let Live
9. The Good Humor Man He Sees Everything Like This
10. Bummer In The Summer
11. You Set The Scene
12. Your Mind And We Belong Together – Video