Published on
September 11, 2014
Category
News
Previously unreleased and unheard album provides the missing link between James Brown and Parliament-Funkadelic.
We knew that a young Bootsy Collins had toured with the original The J.B.s, playing bass for almost a year before parting ways with Brown. What we weren't sure of was whether a rumoured Brown / Bootsy album actually existed. Now we've been put out of our misery with an announcement by Rappcats and Now-Again Records that this previously unheard and unreleased collaboration will be available on 28th November, Black Friday.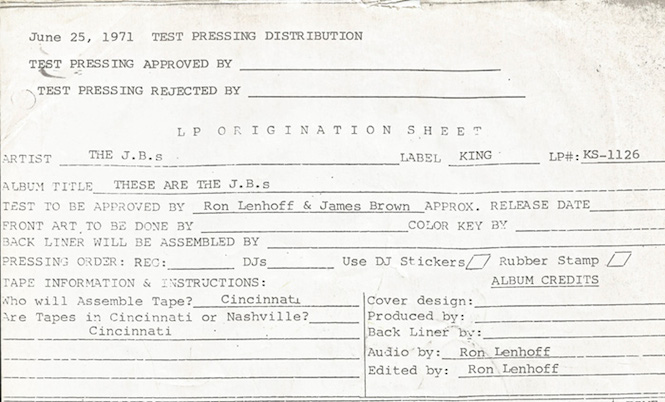 The record was initially intended for King Records but never quite made it. 43 years on, James Brown fans have got a lot to cheer about with his legacy revisited by this landmark release. There's a take on Marva Whitney's "It's My Thing" to look forward to, as well as interpretations of Kool and the Gang, The Meters and Hendrix.
Check out this video of The J.B.s (including Bootsy) backing James Brown's "Sex Machine" in Rome, 1971:
Limited to 3,000 copies and priced at $25 a pop, the release comes with linear notes from Alan Leeds (a James Brown historian), as well as previously unpublished photos. Listen to snippets and pre-oder a copy from here. And have a look at the track details and cover artwork below.
Track List:
A1. These Are The J.B.'s, Pt. I & Pt. II (5.50)
A2. I'll Ze (10.43)
B1. The Grunt (3.30)
B2. When You Feel It, Grunt If You Can (13.03)