Published on
August 4, 2017
Category
News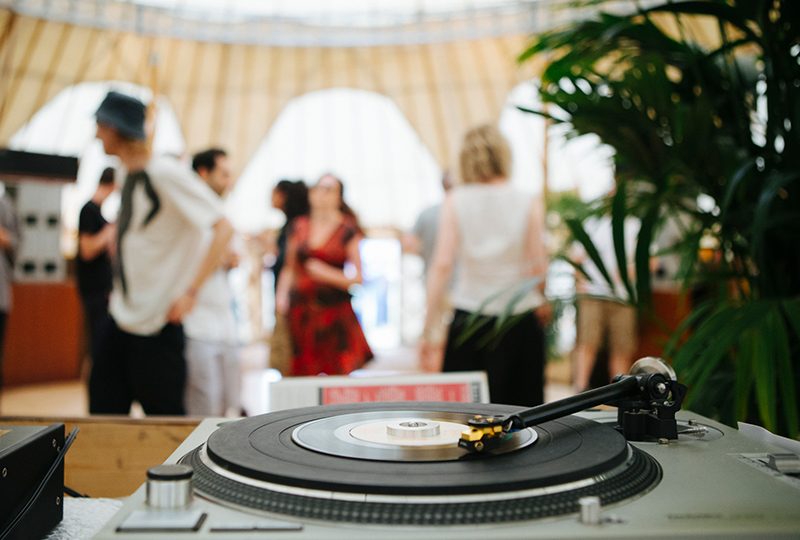 Safe digging before disco time.
Back for its second instalment, London's Sunfall music festival sees a heady lineup takeover Brockwell Park on the 12th of August during the day, including Larry Heard's first UK performance in over 20 years, Madlib, Roy Ayers and more. The festival then spreads across the city for nine night sessions.
Read more: Larry Heard releases new 12″ with album to follow in 2018
Sunfall is also bringing back its independent record fair, showcasing the best of the city's local labels alongside its daytime event.
"We wanted to make sure the things that people loved about Sunfall in its first year returned in year two. The record fair is a project we want to nurture. It's a reminder of why we're doing the festival in the first place, to support the music we love" says festival co-founder Andy Peyton.
18 imprints are selling their wares – including VF favourites 22a, YAM Records and Church – alongside DJs providing tunes to fuel your digging, with vinyl dealer Nick The Record, Hesseltime selector, plus secret guests amongst those lined-up to play.
If the idea of toting your precious purchases around a festival sounds like a recipe for disaster, you're not alone. Sunfall will be offering a vinyl delivery service, so you can have your records safely delivered to your doorstep rather than shattered in pieces of heartbreak on the dance floor during a bass-fuelled foot stomp.
Each label will have their own delivery options, with prices running roughly the cost of shipping vinyl via 1st class Royal Mail post. If you're not able to attend, you can catch Peckham radio station Balamii streaming sets from the fair live.
Head to Sunfall's site for more info, and check-out who'll be selling and spinning their wares below.
Labels:
22a
Astral Black
Black Acre
Church
Coastal Haze
Dimensions Records
Mukatsuku Records
Nervous Horizon
No Bad Days
Rysunku
Secretsundaze
SVS Records
Tief
Tiff's Joints
Videogamemusic
Where To Now?
WotNot
YAM Records
DJs:
Nick The Record
22a Records DJs
Hesseltime
YAM Records DJs
Andwot & Alex Rita (Touching Bass)
Sean OD
Anu
Plus Secret Guest announced on the day