Published on
June 26, 2017
Category
News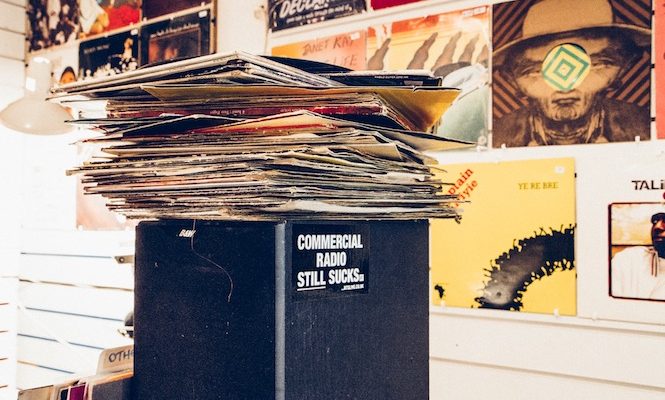 Get up to speed on the best new music on vinyl.
VF editor Anton Spice returns to Soho Radio this week for the latest in our monthly residencies, playing a curated selection of the records that have made waves in the office over the last four weeks.
There's new music from VF favourites On The Record, City Slang and RVNG Intl., electronic Afro-beat from new Soundway signees XOA, tracks from Forever's new Project Pablo-produced mini-LP, and new reissues from Music From Memory, Be With Records and We Want Sounds.
Tracklist:
Makadem & Behr – Nyako (On the Corner)
Alemayehu Eshete – Alteleyeshegnem (Philophon)
Cameleon – La Rose si Fuelles Songes (Strut)
Caliban – Digital reggae (Music From Memory)
Coldcut & On-U Sound – Everyday Another Sanction (Ahead of our Time)
Sad City – Music Removed (Emotional Response)
L'Alba Dei Vinti – Che Male C'è (Early Sounds recordings)
Forever – Tonight (The Vinyl Factory)
Noga Erez – Dance While You Shoot (City Slang)
XOA – Mass (Soundway)
Peaking Lights – Dreaming Outside (Two Flowers Records)
Bei Bei & Shawn Lee – Purple River (Légère Recordings)
Wayne Snow – Nothing Wrong (Tartelet)
Cleo Sol – Why Don't You (self-released)
Buddy Terry – Inner Peace (We Want Sounds)
Ko Shin Moon – 14 Kumpa (Akuphone Records)
Greg Fox – Catching An L (RVNG Intl.)
Jupiter & Okwess – Ofakombolo (Glitterbeat)
Garrett – Apocalyptic Sunrise (Music From Memory)
Kaitlyn Aurelia Smith – By Your Side (Sade cover) (Self-released)
Ulrika Spacek – Mimi Pretend (Tough Love)
Forever – Heaven's Mouth (remix) (The Vinyl Factory)
Alec Mansion – Dans L'eau De Nice (Be With Records)
Marcos Valle – Estrelar (Preservation Records)
Bon Voyage Organisation – Geographie (Wedge)