Published on
April 7, 2015
Category
News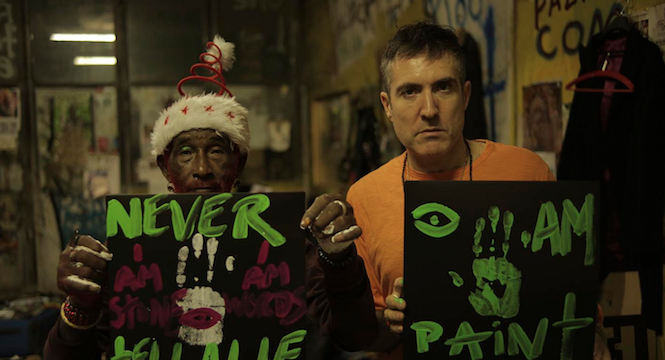 Richard Russell teams up with dub legend for a limited 12″ you can only get by swapping something creative.
UPDATE: Watch Lee Scratch Perry and XL boss Richard Russell painting 'I Am Paint' record sleeves in the video below:


Dust off your Blue Peter badge and get your PVA glue at the ready, because innovative release methods don't get more hands-on than this. Released under his moniker RLR, XL Recordings boss Richard Russell's new single 'I Am Paint' might be the first record ever to be made available to barter.
Teaming up with Lee 'Scratch' Perry, whose vocals are sampled on the track, the pair have hand-painted the limited edition of 250 sleeves at the White Ark in Switzerland, each of which is up for grabs as long as you can make and send something equally inventive to what they've called the Residence La Revolution in West London.
Appearing on the release's website, instructions are vague, but pretty simple:
IF YOU WISH TO OBTAIN A COPY, WE DO NOT REQUIRE PAYMENT
BUT ARE INSTEAD USING A SYSTEM OF BARTER

SIMPLY MAKE SOMETHING YOU WISH TO SWAP, AND SEND IT TO RESIDENCE LA REVOLUTION, PO BOX 68452 LONDON W11 9EZ, AND YOU WILL BE SENT A HAND- PAINTED 12″ IN RETURN
WHILE STOCKS LAST
Open to interpretation, the brief has already been fulfilled by one London DJ Seb Chew, who told Paper Magazine about his project to visually dissect Kendrick Lamar's new record To Pimp A Butterfly into different coloured swear-words which, it seems, has already earned him a copy of 'I Am Paint'.
While it's not clear yet what will happen to the submissions, you can check out the track, the painted sleeves and a whole load of brilliant photos (a few of which we've gathered below) from the painting session over at the Residence La Revolution website.