Published on
July 25, 2016
Category
News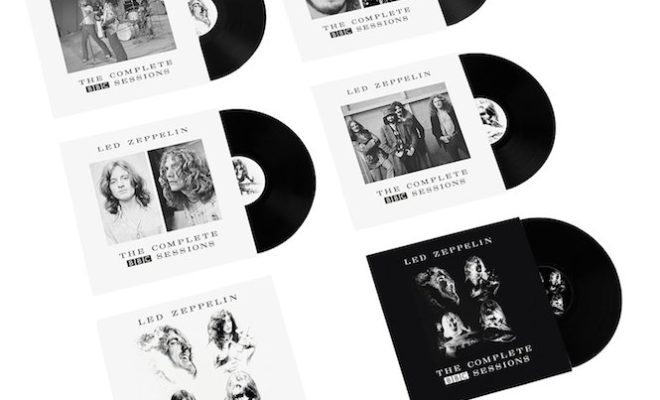 The Complete BBC Sessions as a 5xLP set.
Led Zeppelin will re-release their electrifying, hard-hitting BBC Sessions with unheard material.
Overseen by guitarist Jimmy Page, the new collection includes the debut of a lost 1969 radio session that has achieved near-mythic status among hardcore fans. The session includes unreleased versions of 'I Can't Quit You Baby' and 'You Shook Me' as well as the first-ever release of 'Sunshine Woman'. Find the tracklist below.
The new collection also includes eight previously unheard recordings, include unreleased versions of 'Communication Breakdown' and 'What Is And What Should Never Be'.
The Complete BBC Sessions will be released as a 5xLP set, as well as a 3CD collection and as a digital download. Completists can purchase a Super Deluxe package which includes all formats, along with a 48-page book and high quality print. Due on 16 September, pre-order here.
The Complete BBC Sessions Tracklist:
Disc One:
01. You Shook Me
02. I Can't Quit You Baby
03. Communication Breakdown
04. Dazed And Confused
05. The Girl I Love She Got Long Black Wavy Hair
06. What Is And What Should Never Be
07. Communication Breakdown
08. Travelling Riverside Blues
09. Whole Lotta Love
10. Somethin' Else
11. Communication Breakdown
12. I Can't Quit You Baby
13. You Shook Me
14. How Many More Times
Disc Two:
01. Immigrant Song
02. Heartbreaker
03. Since I've Been Loving You
04. Black Dog
05. Dazed And Confused
06. Stairway To Heaven
07. Going To California
08. That's The Way
09. Whole Lotta Love (Medley: Boogie Chillun/Fixin' To Die/That's Alright Mama/A Mess of Blues)
10. Thank You
Disc Three:.
01. Communication Breakdown *
02. What Is And What Should Never Be *
03. Dazed And Confused *
04. White Summer
05. What Is And What Should Never Be *
06. Communication Breakdown *
07. I Can't Quit You Baby *
08. You Shook Me *
09. Sunshine Woman *
* = Previously Unreleased