Published on
November 15, 2016
Category
News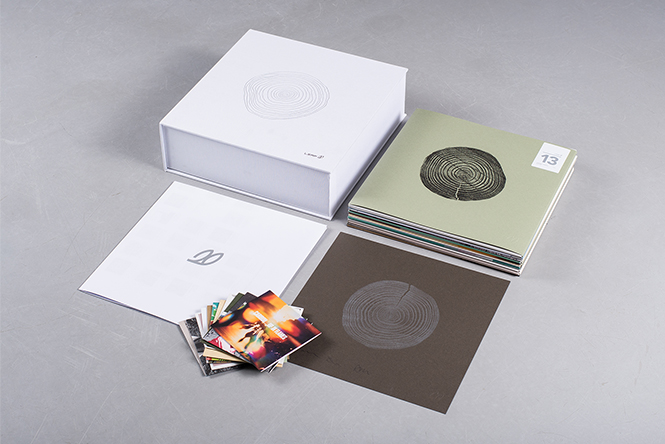 Caribou, A Hawk & A Hacksaw and Susumu Yokota feature in ambitious 10xLP retrospective.
Marking its 20th anniversary in 2015, The Leaf Label has released a beautifully presented box set, highlighting ten landmark albums from the label's genre-bending catalogue.
Originally announced late last year via Pledge Music, the label overcame several hurdles to ready the limited edition box for release, which you can explore in all its glory in the gallery below.
Given the ambition of the project, it's not hard to see why things took a little longer than expected. Inspired by the images of leaves from the label's debut EP way back in 1995, the box set draws on several natural motifs, centred around a series of cross-sectional cuts taken from the trunk of a 20 year old tree.
"Ten slices from the tree were specially cut, finished and then inked up to print directly onto a set of 10 x 200 limited edition outer sleeves," the label explains. Protecting the original cover artwork of each record, the outer sleeves were individually hand-printed, with the ring motif carrying over the the white and silver design on the outside of the box.
Each record is pressed onto white vinyl, while CD editions of the albums are embedded into the floor of the box, along with a pull out poster, limited edition print and essay charting the story of the label by author and journalist Rob Young.
Assembled by label founder Tony Morley in collaboration with Leeds design studio Split, you can see the full contents of the box set below and pre-order your copy direct from The Leaf Label online shop. Individual copies of each album included in the set are also available.
Leaf 20 Box Set:
Susumu Yokota – Sakura
Asa-Chang & Junray – Jun Ray Song Chang
Murcof – Martes + Utopía
Caribou – Up In Flames
Colleen – Everyone Alive Wants Answers
A Hawk And A Hacksaw – The Way The Wind Blows
Efterklang – Parades
Polar Bear – Peepers
Wildbirds & Peacedrums – Rivers
Melt Yourself Down – Melt Yourself Down