Published on
November 17, 2015
Category
News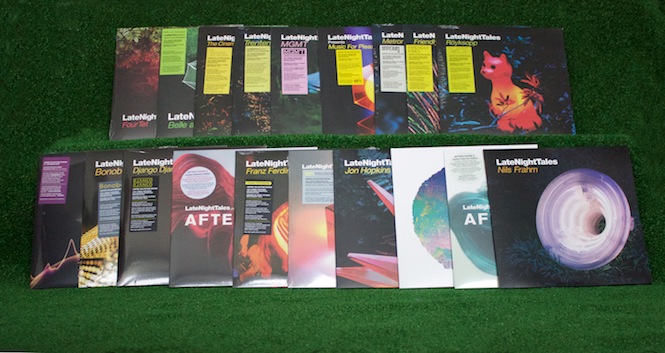 Late Night Tales go heavyweight with 9kg deluxe vinyl collection.
Finding a moment of calm to reflect on their high quality series of nocturnal mixtapes, Late Night Tales are releasing a retrospective collecting nineteen vinyl albums from their back catalogue.
Featuring contributions from artists like Four Tet, Nils Frahm and The Cinematic Orchestra, the 2015 Deluxe Vinyl Collection weights in at an impressive 9kgs, due in no small part to the label's attention to pressing every release to high quality vinyl and housing them in anti-static bags and 350 gsm art board sleeves.
Click here to order and check out which albums are included below:
ALNLP12 Four Tet
ALNLP14 Belle & Sebastian, Vol. I
ALNLP22 The Cinematic Orchestra
ALNLP25 Trentemøller
ALNLP26 MGMT
ALNLP28 Groove Armada: Music For Pleasure
ALNLP29 Metronomy
ALNLP30 Friendly Fires
ALNLP32 Röyksopp
ALNLP33 Rae & Christian – Mercury Rising
ALNLP34 Bonobo
ALNLP35 Django Django
ALNLP36 After Dark: Nightshift
ALNLP37 Franz Ferdinand
ALNLP38 Groove Armada: Automatic Soul
ALNLP39 Jon Hopkins
ALNLP40 Khruangbin – The Universe Smiles Upon You
ALNLP41 After Dark: Nocturne
ALNLP42 Nils Frahm