Published on
January 23, 2019
Category
News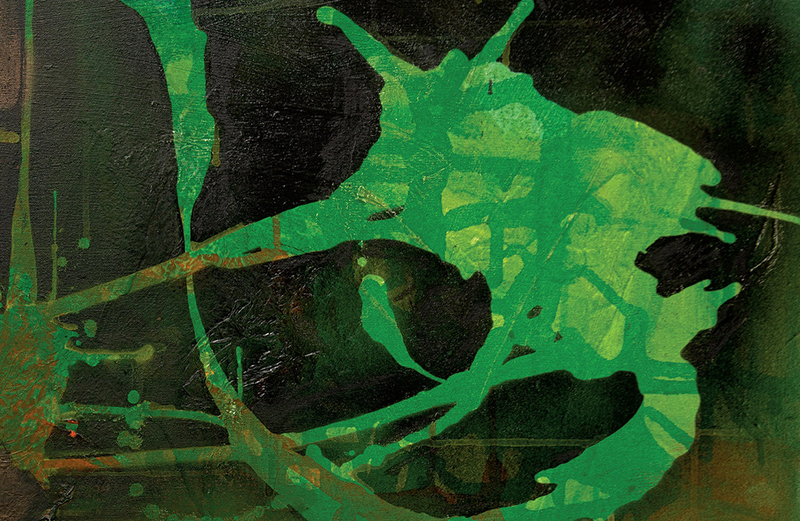 "A voyage into deeply meditative ambience and trance-inducing dub."
Glasgow label Invisible, Inc. is releasing a collection of tracks by Canada-based electronic duo log(m) and pioneering new age composer Laraaji called The Onrush Of Eternity, this February on triple vinyl.
Read more: Laraaji, Sampha, Klein perform inside a London church for Devotional Sound
Their collaboration began with sessions at log(m)'s Canada studio in 2007, with several hours of music created over the past ten years since their first meeting.
Originally going by the name Legion Of Green Men in the early nineties, log(m) have become known for their use of eternal opuscules (or locked grooves) in vinyl pressings, which allow the music to play on indefinitely.
The Onrush Of Eternity 3xLP release features multiple locked grooves, as well as "cryptic engravings" from the duo.
The album is available on transparent red, green and blue vinyl as well as standard black variants, with a cover adorned by an abstract painting by Montreal-based artist Susan Kilburn.
Its release follows Laraaji's performance at Devotional Sound inside St. John's – an evening concert curated by Grace Wales Bonner, co-presented by The Store X, Serpentine Galleries and Young Turks.
Pre-order The Onrush Of Eternity here ahead of its 18th February release, listen to clips from the album and check out the track list below.
Tracklist
Side A
1. Daisy Fields
2. Sruthi Dub Resonance
3. Barefoot
4. Pollinator (Eternal Opuscule #120)
5. Stamens (Eternal Opuscule #121)
Side B
1. Oregano In Dub Minor
2. Sunken Forest
3. Daisy Dub
4. Beat Resonance (Eternal Opuscule #118)
5. Gyration (Eternal Opuscule #119)
Side C
1. Time Zone Conversations
2. Deeping Breathely
3. Oregano In E-Minor
4. All That Spins (Eternal Opuscule #124)
Side D
1. Sruthi Box Resonance
2. Galaxea
3. Be As You Are
4. Be As You Are (Eternal Opuscule #126)
Side E
1. Sundog Suite
2. Pear Strings
3. Pair Of Seeds (Eternal Opuscule #122)
Side F
1. Spiral Activator
2. Final Oscillator (Eternal Opuscule #117)
3. Sundog Reprise (Eternal Opuscule #125)