Published on
July 27, 2017
Category
News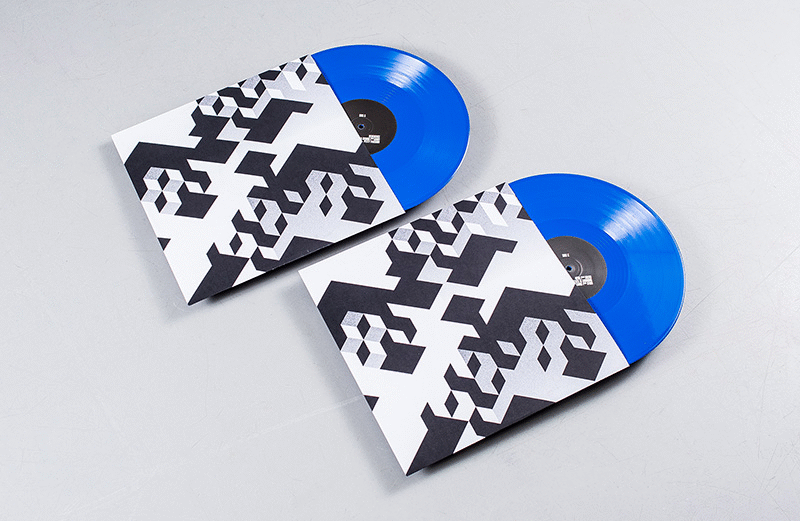 Deluxe vinyl edition out this week.
So entwined were the form and content of Stuart Howard's new Lapalux album, that the UK producer has coined an 'ism' to try and capture it. While Ruinism may evoke structural decay, the building blocks of the record are far more redemptive, crafting a sonic language salvaged from disintegration.
Using just analogue hardware and real instruments, Howard says he would "record synths and drum hits and re-sample, re-pitch, twist and blend the sound until it was 'ruined'," only to stitch them back together again into more recognisable forms.
Unlike the self-consciously "time-stamped" aesthetic of the cover she designed for Lapalux's previous album Lustmore, art director Marielle Tepper favoured geometric surfaces and colder tones in shaping the visual identity of Ruinism.
Here, the anonymous figure absent from Lustmore is suspended in a future-facing void that references both brutalist architecture and pixelated blocks of data, the rope from which she hangs described by Tepper as "lifeline that dips us into Eternity for our few years to live among the surfaces."
In her new video for 'Data Demon', Tepper takes this a step further, charting that life "among the surfaces" from Kubrick-esque birth and death through a series of abstracted environments as the track swells from orchestral beauty to its paranoid denouement. Watch it below:
"Stuart's music moves me, sometimes quite deeply," Tepper says, speaking of the way the images interact with his sound. "The images that came to me when I heard these tracks struck me as both classical and modern. The geometric shapes I used are reminiscent of the "Hard Edge" paintings of Lorser Feitelson, an American artist who was influenced by Henri Matisse. Against the flat un-decorative "architectural" surfaces, I juxtaposed a human about whom we know nothing. Hopefully, the image gives the viewer an impulse toward inquiry and — while listening to the album — resolution."
Ruinism is released as deluxe and standard vinyl editions on Friday 28th July on Brainfeeder. Click here to order your copy and catch Lapalux on tour at the following dates.
06 Oct Six d.o.g.s, Athens, GR – Info
07 Oct The Sugar Club, Dublin, IE – Info
10 Oct Patterns, Brighton, UK – Info
11 Oct Headrow House, Leeds, UK – Info
12 Oct Stereo, Glasgow, UK – Info
13 Oct Soup Kitchen, Manchester, UK – Info
14 Oct Village Underground, London UK – Info
18 Oct Dürer Kert, Budapest, HU – Info
20 Oct Slakthuset, Stockholm, SE – Info
21 Oct Loppen, Copenhagen, DK – Info
24 Oct Paradiso, Amsterdam, NL – Info
25 Oct DDW-Music, Eindhoven, NL – Info
26 Oct Simplon, Groningen, NL – Info
27 Oct Upload, Barcelona, ES – Info
28 Oct Point Ephémère, Paris, FR – Info
03 Nov Niebo, Warsaw, PL – Info
04 Nov Reflektor, Liège, BE – Info
07 Nov Stall 6, Zurich, CH – Info
09 Nov Gretchen, Berlin, DE – Info
10 Nov Enjoy Jazz Festival, Mannheim, DE – Info
11 Nov Garaj, Istanbul, TR – Info