Published on
September 25, 2014
Category
News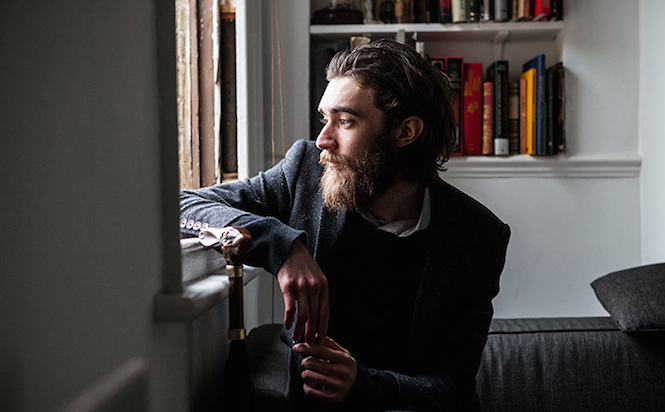 The Vinyl Factory is pleased to announce a limited edition vinyl release of Romantic Works, the acclaimed third album from musician and visual artist Keaton Henson.
Previously only available on CD and digital when it dropped in June, The Vinyl Factory's limited edition pressing includes the 10 original tracks from Romantic Works, plus bonus song 'La Naissance' and an Ulrich Schnauss remix. The vinyl comes complete with a choice of artwork from a selection created by Keaton himself. See below for full details and to order a copy.
To mark the release, we filmed Keaton Henson and Ren Ford performing the vinyl-only bonus track 'La Naissance'. Watch the exclusive video here:
The unexpectedness surrounding the Romantic Works release has only fortified Keaton's reputation as a mysterious, unpredictable artist. It's a remarkable album (given 5/5 by The Guardian and mooted for this year's Mercury) that grew organically – Keaton found himself writing instrumental pieces and, despite his musical illiteracy, taught himself the art of orchestration and arrangement. Taking inspiration from the repetitive simplicity of Arvo Pärt, Phillip Glass and Henryk Goreck and the instrumentation of Edward Elgar, the beautiful collection articulates stories that Keaton could not translate into words.
Dubbed "bedroom classical", the album was recorded in his small London bedroom with close friend and guildhall virtuoso cellist Ren Ford. Keaton assembled layers to the pieces using found objects and charity shop instruments, creating a bold indie-classical crossover.
Listen to Romantic Works below:
The 11-track vinyl LP has been pressed on 180-gram heavyweight vinyl, and is housed in a full colour outer sleeve and printed inner sleeve with Obi Strip. Also included is an exclusive art print by Keaton, hand signed and numbered. There are six different art prints to choose from, in edition sizes of 100 each. Priced at £25.
Click here to order a copy and scroll down to look through the artwork.