Published on
June 13, 2016
Category
News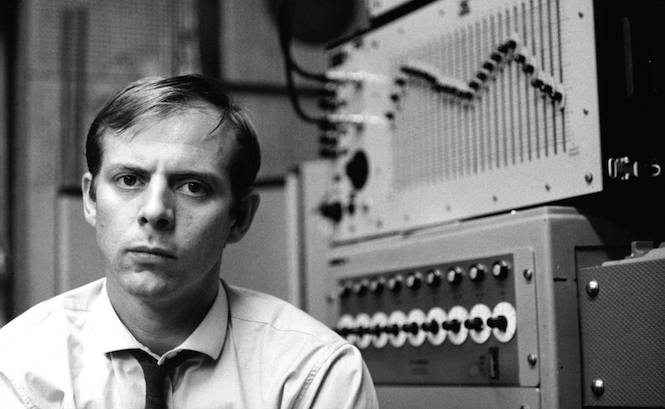 "The first masterpiece of electronic music" is back on vinyl.
German composer and electronic music pioneer Karlheinz Stockhausen is to have a series of his most seminal electronic compositions reissued on vinyl.
Released by Modern Silence, a trio of limited edition LPs will revisit Stockhausen's intense pre-'60s compositions, a period which saw the German composer take inspiration from Pierre Schaeffer's musique concrète studio in Paris back to Cologne where some of his most important work was made.
All three releases feature work from this period, with Studie I & II and Gesang Der Jünglinge – originally released together on 10″ by Deutsche Gramophon in 1957 – joined by his 1959 composition Zyklus Für Zwei Schlagzeugern ('Cycle For a Percussionist') on the first collection.
Gesang Der Jünglinge is regularly described as "the first masterpiece of electronic music", integrating electronics with manipulated human voices and acoustic instruments in the musique concrète tradition. Despite being almost sixty years old, it still sounds shockingly contemporary.
The second collection features Stockhausen's first piece of musique concrète Beton-Studie (Concrete Study), written by Stockhausen in Paris as early as 1952-53 but believed lost until 1992. It features alongside two of the composer's most celebrated works of the decade, Zeitmass (1955), and Klavierstück XI, parts I-IV (1956).
The third Stockhausen reissue will focus on Kontake, composed in the '50s but originally released in 1964, which shows the influences of American avant-garde jazz and composers like John Cage had on his composition.
Featuring tape recording of percussion sounds that have been altered by different electronic devices, it's work like this where Stockhausen's influence can be traced through the most important electronic artists of the following decades from Kraftwerk to Aphex Twin (whose Computer Controlled Acoustic Instruments Pt. 2 is a nod to the techniques pioneered by the maverick German.)
All three releases have been released on 180gram vinyl and are limited to 500 hand-numbered copies each. Click the links above to order your copies and read up on the greatest electronic recordings of the '50s and '60s here.