Published on
February 28, 2019
Category
News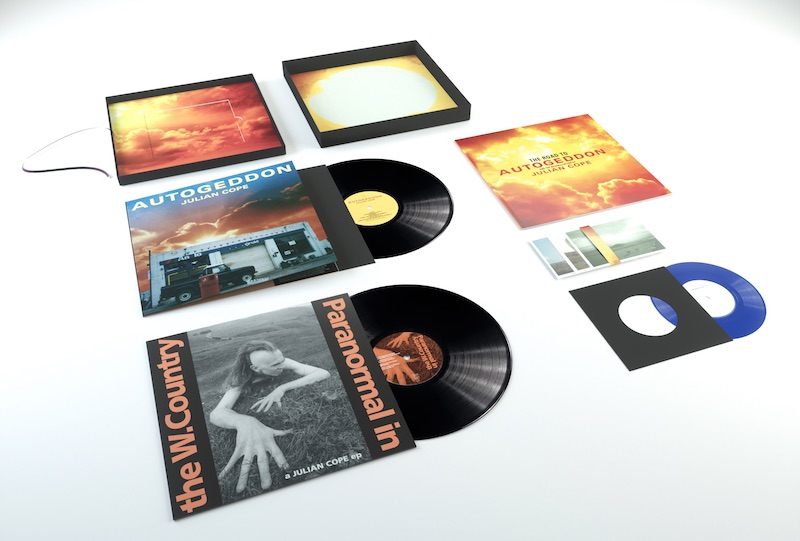 Featuring rare 12″ and 7″s, postcards and a 24-page book.
Maverick musician Julian Cope's 1994 album Autogeddon is set to be reissued on vinyl for the first time, via Once Upon A Time, this June.
The final part of a trilogy of releases that included 1991's Peggy Suicide and 1992's Jehovahkill, Autogeddon was released on Echo following Cope's split from Island Records in 1992.
A record that is as prescient in its concerns today as it was 25 years ago, Autogeddon faces down the prospect of individualised, motorised transport and its environmental impact.
This new vinyl edition is housed in a cloth cover box with silver foil lettering. The original album appears in a gatefold sleeve and is accompanied by a 12″ version of four-track EP Paranormal in the West Country, previously only available on CD. A 7″ pairing rare singles 'Conspiracist Blues' and 'Highway Blues' is also included.
As well as a set of replica postcards, the box set features a 24-page book called The Road to Autogeddon: The Rehabilitation of Julian Cope, written and edited by Julian's former long-standing publicist Mick Houghton.
Autogeddon is released on 28th June via Once Upon A Time. Pre-order a copy here, and check out the packaging and tracklist below.
Tracklist:
Side A:
1. Autogeddon Blues
2. Madmax
3. Don't Call Me Mark Chapman
4. I Gotta Walk
5. Ain't No Gettin' Round Gettin' Round
Side B:
1. Paranormal In The West Country (Medley)
i) Paranormal Pt. 1
ii) Archdrude's Roadtrip
iii) Kar-Ma-Kanik
2. Ain't But The One Way
3. s.t.a.r.c.a.r
Paranormal In The West Country 12":
1. With The Leone Quartet
2. Avebury
3. Krankenhausmusik
4. Original
'Blues 7"':
A. Conspiracist Blues
B. Highway Blues