Published on
June 21, 2016
Category
News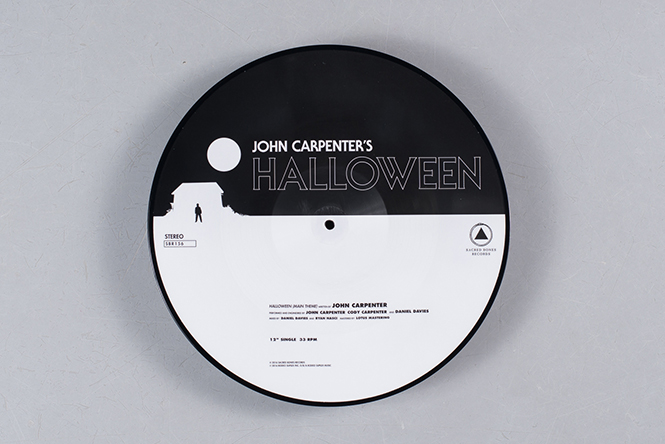 Horror master revisits four classic soundtrack themes.
Picture discs may have always been reserved for the gaudy and the extrovert, an exhibitionist's canvas pressed into wax. Often for hallucinogenic effect, as expertly crafted by Sculpture, or high camp (just ask John Malkovich), the picture disc has a reputation for kitsch that fits the slasher movie genre like a glove.
A master at extracting moments of sublimity from the smallest of budgets, John Carpenter's breakthrough and enduring masterpiece Halloween captures these contradictions perfectly – trashy, terrifying and delivered with an almost satirical grandeur.
'Halloween' is one of four of Carpenter's classic themes that the composer has revisited in the studio for his latest series of releases, enlisting son Cody Carpenter and godson Daniel Davis, with whom he recorded his two recent collections of non-soundtrack music Lost Themes and Lost Themes II to give these timeless scores a fresh lease of life.
Split across two monochrome picture discs, the four themes also include reworks of dystopian action thriller 'Escape From New York', the synth mastery of 'Assault on Precinct 13' – partly inspired by Dirty Harry and Led Zeppelin's 'Immigrant Song' – with his evocative score to 'The Fog', reissued in its entirety by Death Waltz Recording Co. in 2013.
And as visually opulent as the movies are, the picture discs make a virtue of restraint, focussing on the silhouetted outlines of each film's dominant location, a series of paired down collectables (with an aesthetic to match Carpenter's low-budget creations) that both subvert and join the great, tongue-in-cheek tradition of the picture disc.
Check out the releases below and order yours here.