Published on
May 30, 2013
Category
News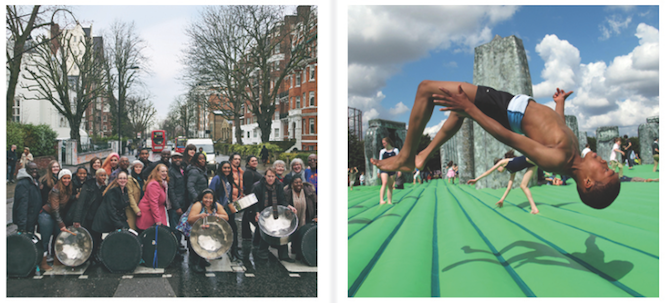 Turner Prize winning artist Jeremy Deller will release the soundtrack to his new film work "English Magic" currently exhibited at the Venice Biennale's British Pavilion as a limited edition EP with The Vinyl Factory.
Charged with representing Great Britain at the 55th International Art Exhibition – La Biennale di Venezia which launches this week, Jeremy Deller has turned to the country's rich and varied musical heritage for inspiration.
The eclectic picture of England Deller presents in "English Magic" through a series of stunning slow motion bird shots, a wintry scrapyard, an inflatable stonehenge and a street parade is reflected in the accompanying soundtrack; a 3 track EP that draws on three major junctures in UK music history.
Drenched in cultural significance and recorded at the iconic Abbey Road studios in London, Deller has called upon South London English/Trinidadian steel band the Melodians Steel Orchestra to interpret composer Vaughan Williams' 'Symphony in D minor', seminal UK acid house track "Voodoo Ray" by A Guy Called Gerald and David Bowie's 1971 pop refrain "The Man Who Sold The World", for what is a daring and evocative celebration of modern day England.
You can watch "English Magic", with excerpts from the accompanying soundtrack here.
The EP will be released on vinyl and as a digital download on 10th June, with 300 limited triple vinyl edition copies also available. These will be hand-signed and include a 10″x10″ of the album's artwork, created by Deller himself. Head over to our shop for more details or to pre-order a copy.
Jeremy Deller's British Council commission is at La Biennale di Venezia until 24th November and will tour national UK venues in 2014. www.britishcouncil.org/visualarts.
The Vinyl Factory has released work by Jeremy Deller in the past, notably his recording of South Bank busker Chuck's Johnny Cash covers.