Published on
January 5, 2016
Category
News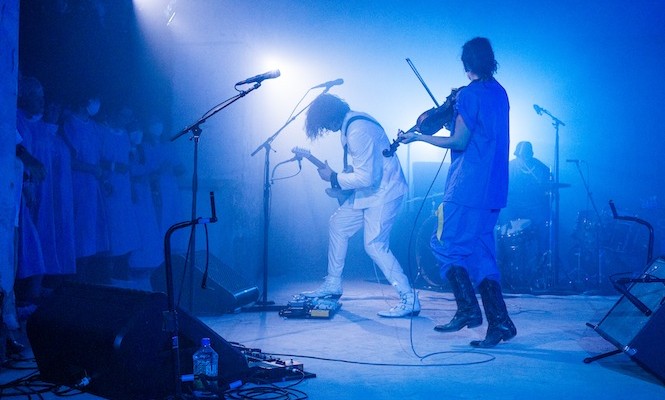 Two Star Tabernacle, the Go and Jack White and the Bricks featured in new triple vinyl package.
With Third Man Records opening a pressing plant in Detroit, the Cass Corridor neighbourhood and its history continues to inspire its members-only Vault Series.
Following a wild 1999 White Stripes performance at Gold Dollar for #26, the latest instalment returns to the legendary rock dive to catch full live shows from three of Jack White's early and formative bands.
First up is Two Star Tabernacle's 1998 gig, featuring future White Stripes staples, 'Hotel Yorba' and 'Now Mary' and unheard track 'Itchy'.
Second is another recording from '98; this time, a live show by Sub Pop act the Go (who White briefly played guitar for), featuring a performance of White's original song 'Turn Your Little Light Bulb On'.
The final record catches Jack White and the Bricks performing in 1999, just months after the White Stripes released their self-titled debut LP.
All three LPs feature an unreleased Jack White track from that era. Also included is a seven-inch of Dead Weather's 'Let Me Through' and 'Be Still', two tracks off the band's Dodge and Burn from last year.
Each LP gets it own custom jacket, packaged within a soft touch telescoping box – as a tribute to the Gold Dollar building. The vinyl itself promises to look as gold as possible.
Sign up by January 31st to get a copy. [via Rolling Stone]