Published on
June 6, 2016
Category
News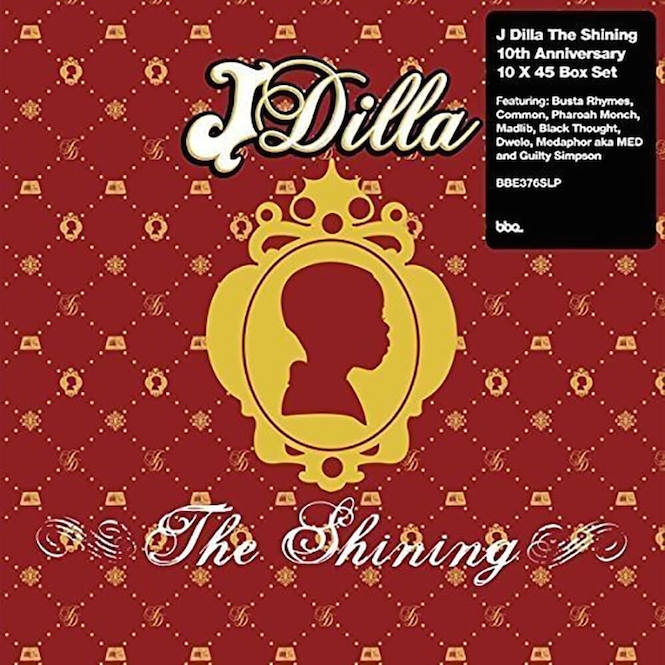 The posthumous album features guest spots from Busta Rhymes, Common and D'Angelo.
When Dilla died on 10 February 2006, his third studio album The Shining was about 75% complete. The project was passed over to kindred spirit and fellow Detroit artist Karriem Riggins who oversaw its completion that year. Now, to mark 10 years since its release, the album is being reissued as a nifty collection of 45s.
The 10 x 7″ box set will include all twelve album singles plus instrumentals on the B-side. As is often the case, the beats were themselves released as an album back in 2006.
With cracking performances from Common, Busta Rhymes, D'Angelo, Black Thought and Pharoahe Monch, as well as Dilla himself rhyming on closing track 'Won't Do', find the tracklist below.
Due on 26 August, pre-order you copy here.
This year, J Dilla's long lost album The Diary was finally released after a 10-year mission to bring it to life.
Tracklist
Disc: 1
1. Geek Down (Feat. Busta Rhymes)
2. Love Jones
3. Geek Down (Feat. Busta Rhymes) [Instrumental]
Disc: 2
1. E=Mc2 (Feat. Common)
2. E=Mc2 (Feat. Common) [Instrumental]
Disc: 3
1. Love (Feat. Pharoahe Monch)
2. Love (Feat. Pharoahe Monch) [Instrumental]
Disc: 4
1. Baby (Feat. Madlib & Guilty Simpson)
2. Baby (Feat. Madlib & Guilty Simpson) [Instrumental]
Disc: 5
1. So Far to Go (Feat. Common & D'angelo) [7″ Edit] 2. So Far to Go (Feat. Common & D'angelo) [7″ Edit Instrumental]
Disc: 6
1. Jungle Love (Feat. Med & Guilty Simpson)
2. Jungle Love (Feat. Med & Guilty Simpson) [Instrumental]
Disc: 7
1. Over the Breaks
2. Body Movin' (Feat. J. Rocc & Karriem Riggins)
Disc: 8
1. Dime Piece (Feat. Dwele)
2. Dime Piece (Feat. Dwele) [Instrumental]
Disc: 9
1. Love Movin' (Feat. Black Thought)
2. Love Movin' (Feat. Black Thought) [Instrumental]
Disc: 10
1. Won't Do
2. Won't Do [Instrumental]
[via Modern Vinyl]