Published on
July 11, 2014
Category
News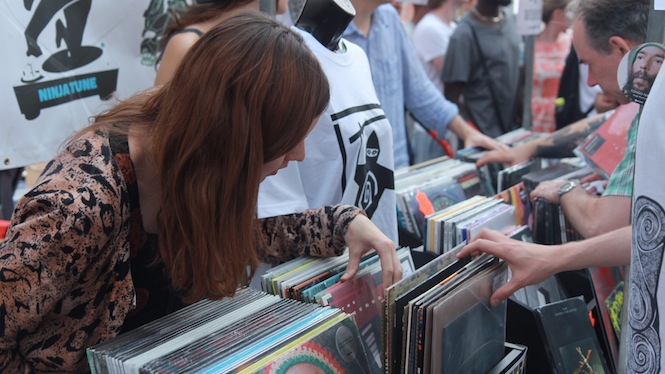 Floating Points, Kode9 and more label heads expected to man stalls at the ever-popular record fair.
It sounds like the simplest of formulas, but who doesn't like vinyl and beer? Back again after what seems like ages, Independent Label Market will once again team up with London Brewers' Market, for an afternoon of boozy record buying and market-style trading.
If you've been paying attention for the last few years, you'll know all this, but for the uninitiated, this is what you can expect: Unlike your average record fair, Independent Label Market prides itself of inviting the label owners themselves down to get their hands dirty and sell records directly to the punters, and this year is no different with the likes of Floating Points (Eglo), Kode9 (Hyperdub) and Hot Chip's Joe Goddard (Greco-Roman) taking charge of the money box at their respective stalls.
Other high profile attendees expected include The Invisible, Women's Hour, Bo Ningen and Matt Berry, while a full day of DJs are being laid on to soundtrack the afternoon, including Bullion, Full Nelson and Reginald Omas Mamode IVth.
Another thing to look out for will be the plethora of limited editions, rare records and collectors' items that are wheeled out for sale exclusively at the market. Highlights this time round undoubtedly include a whole bunch of rarities from the Beggars Arkives, with rare copies of Adele's debut single 'Hometown Glory'. Other items of note include signed Metronomy goodies and exclusives from Wild Beasts, Pixies and countless others. If that wasn't enough, try and tell me you don't want a Ninja Tune lighter, a Warp keyring or a Fire records tankard.
And then there's the beer, but we'll leave that for you to discover yourselves. You can see a full list of labels attending below, and find out more about the event from the Facebook page. For a teatse of what to expect check out our photos from last year's sweltering summer bonanza here.
Independent Label Market is open 11am until 6pm at London's Old Spitalfields Market this Saturday, 12th July.
!K7
4AD
Acid Jazz
Aesop
AUS
Battle
Because
Beggars Archive
Bella Union
Best Fit
Big Dada
Brille Records
Brownswood
Caught By The River
Chess Club
City Slang
Claremont 56
Communion Records
Cooking Vinyl
Critical Heights
DEEK
Dead Oceans
Defected
Delusions Of Grandeur
Domino
Double Denim Records
Drag City
Dummy Records
East London Printmakers
Eglo
Electric Minds
Elefant
Erased Tapes
Exit
Faber & Faber
Fabric
Factory Benelux
Far Out
Fire
First Word
Five Easy Pieces
Fortuna Pop!
Freerange Records
Full Time Hobby
Fuzz Club
Gearbox
Get Me!
Glassnote
Greco Roman
Grebo
Gringo
Heavenly
Houndstooth
Hospital Records
Hyperdub Records
Infectious
Jagjaguwar
KayaKaya Records
Late Night Tales
Leng
Les Disques du Crépuscule
Lost Toys Records
Mais Um Discos
Marathon
Memphis Industries
Monotreme
Moshi Moshi
Ninja Tune
No Pain In Pop
Non Plus
Oak Ten
Oh Mercy
One Little Indian
Parlour
Peacefrog
Phantasy Sound
PIAS
Proville
Rare Noise
R&S
Rega (TURNTABLES)
Robot Elephant
Rocket Girl
Secretly Canadian
Snapper
Sonic Cathedral
Soundway
Soul Jazz
StiffyByng
Stolen Recordings
Strut
Sunday Best
Topic Records
Upset The Rhythm
Wah Wah 45s
Warp Records
World Circuit
WYAIWYA
XL
ZZK Records