Published on
April 29, 2016
Category
News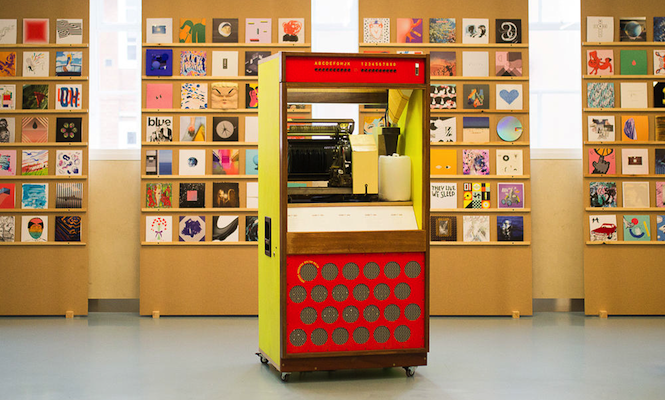 Play 7″s or stream them to every room in the house.
Just months after the world's first new vinyl jukebox went into production, Secret 7″ and Sonos have re-animated a vintage jukebox that will also allow you to stream its 7″ singles to every room in your house using Sonos multi-room technology.
Working in collaboration with Michael Marriott and Staf Schmool, the vinyl-based charity organisation Secret 7″ has created the Secret Seeburg – a vintage jukebox that will contain all 35 of the Secret 7″s releases from the last five years, including music from Diana Ross, John Lennon, Massive Attack, DJ Shadow and Tame Impala among others.
Sourcing a 1966 Seeburg Mustang from the United States, Michael and Staf had the mechanics serviced, at which point the jukebox was fitted with Sonos technology and rehoused in a contemporary fluro yellow birch plywood cabinet, and finished with laser cut acrylic, aluminium trim and new internal lighting.
Set up to take any coin under £1 to pay for your selection, it also has a free play button so you're not banking cash to play the 7″s in your own home, and comes with the ability to house up to 50 of your own 45s, with both dinked or normal middles.
As ever with Secret 7″ auctions, money raised will go to charity, with Amnesty International set to receive the spoils of the sale, which, with nine days to go, is already up to £1,000.
Secret 7″ is an annual event that raises money for charity by selling seven hundred copies of ten exclusive 7″ singles housed in sleeves designed by 700 different graphic designers and artists, which have in the past included high-profile names like Gilbert & George, Ai Wei Wei and Sir Antony Gormley.
Check out the photos below and get bidding here.