Published on
December 18, 2013
Category
News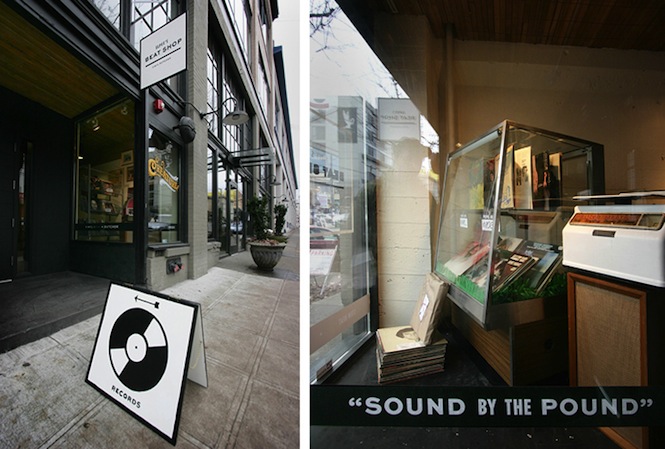 Prime cuts assured at Seattle's "butcher shop" vinyl depot.
Now here's an idea. Elpee's Beat Shop, a festive-period pop-up in central Seattle, is selling a choice selection of vinyl records by the pound in the shopfront of ad agency Creature.
However, as anyone who has ever tried to shift a bunch of records any distance at all will tell you, there's not much to be gained as a buyer to pay for your records by the pound. As creative director Chris Campbell told The Seattle Times: "I realized that it wasn't a good idea in real life but I still wanted to do it, and this was a good opportunity… I thought: 'Why not realize my dream and make a record butcher shop?'"
Like the infamous shop-by-weight vintage stores in Berlin, Elpee's slab of wax retail enterprise comes with a series of caveats to protect the prime joints from being undercut. Alongside the chalkboard specials are variations of "stew" meat for 43 cents a pound, "prime beats" for $1.03 a pound and choice cuts for $1.46 a pound.
With over 1,000 records in stock, Campbell explains the method behind the quality control: "In the stew heap, a lot of it is Conway Twitty… In the prime stuff there's anywhere from Chaka Khan to Everly Brothers to Ronnie Laws." Looks like you're going to get what you pay for. No sign of Meat Loaf any though.
Elpee's Beat Shop is to be found on 1517 12th Ave., in Capitol Hill, Seattle and is open weekdays and Saturdays 21st Dec, 4th & 11th Jan. [Via The Seattle Times]