Published on
August 15, 2016
Category
News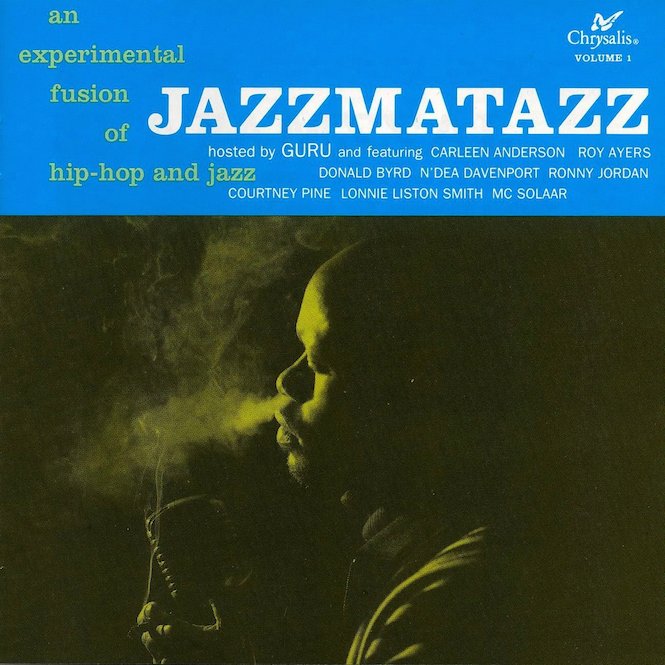 With Donald Byrd, Roy Ayers, Lonnie Liston Smith and more.
Over two decades on from its original release, Jazzmatazz Vol. 1 by Guru, is back on vinyl. The 1993 classic was one of the first albums to combine a live jazz band with rapping and the more cutting-edge hip-hop production.
Guru's vision saw inter-generational legends – Lonnie Liston Smith, Branford Marsalis, Ronny Jordan, Donald Byrd, Roy Ayers – unite in the live band. The album also features vocal collaborations with Carleen Anderson, N'Dea Davenport (of the Brand New Heavies), Dee C Lee and French rapper MC Solaar.

Read Next: 20 essential Gang Starr tracks
The late MC is quoted in the liner notes explaining his natural attraction to both jazz and rap: "jazz's mellow tracks, along with the hard rap beat, go hand-in-glove with my voice." He followed up the critically acclaimed album with three more volumes. Get your hands on volume one here.
Tracklist
01. Introduction
02. Loungin'
03. When You're Near
04. Transit Ride
05. No Time To Play
06. Down The Backstreets
07. Respectful Dedications
08. Take A Look (At Yourself)
09. Trust Me
10. Slicker Than Most
11. Le Bien, Le Mal
12. Sights In The City