Published on
March 9, 2017
Category
News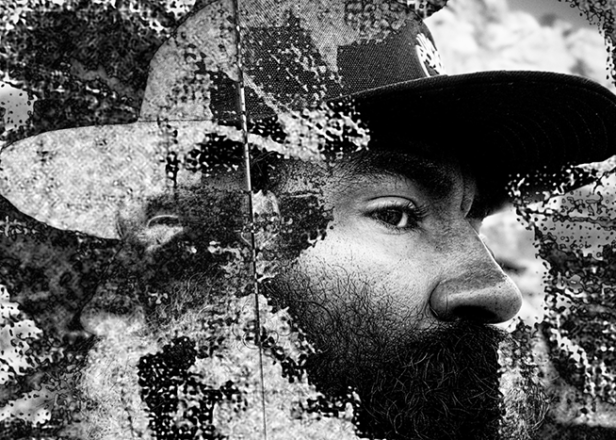 Mandela Effect contains remixes, covers and original music.
Gonjasufi has rounded up a stellar cast for a new collaborative album titled Mandela Effect.
The LP features a Shabazz Palaces rework of 'Afrikan Spaceship' from the San Diego artist's 2016 album Callus, while Massive Attack's Daddy G has remixed 'Your Maker'.
Moor Mother, Portishead's Beth Gibbons, Brainfeeder's Ras G and Afrobeat legend Tony Allen also make appearances.
As the press release states, the "Mandela Effect" is a fairly recent phenomenon in which experiencers claim to be living in a reality slightly different from the one they remember. These differences, manifested in literature, movies, logos and even people themselves, constitute the evidence of an altered reality for "Mandela" believers.
The phrase was conceived after large groups of people seemed to "misremember" that Nelson Mandela had died during his imprisonment in South Africa in the '80s, rather than in 2013.
Out via Warp on April 7 on limited vinyl as well as the usual formats, place pre-orders here.
Tracklist:
01. '(x)' (Intro)
02. 'Show' (Beth Gibbons/Rustin Man cover)
03. 'Your Maker' (Daddy G Remix)
04. 'Afrikan Spaceship' (Shabazz Palaces Rework)
05. 'Maniac Depressant' (Perera Elsewhere Remix)
06. 'When I Die' (IMD Remix)
07. '(y)' (interlude)
08. 'The Conspiracy' (Santino Romeri Remix)
09. 'Your Maker' (Anna Wise Remaker)
10. 'Afrikan Spaceship' (Ras G Ghettoscifi Remix)
11. 'Maniac Depressant' (Innsyter Remix)
12. 'Vinaigrette' (Dave Parley Remix)
13. 'Afrikan Spaceship' (King Britt Rework)
14. 'The Kill' (Moor Mother Remix)
15. 'Etherwave' (feat. Tony Allen)
16. '(z)' (Outro)