Published on
January 13, 2016
Category
News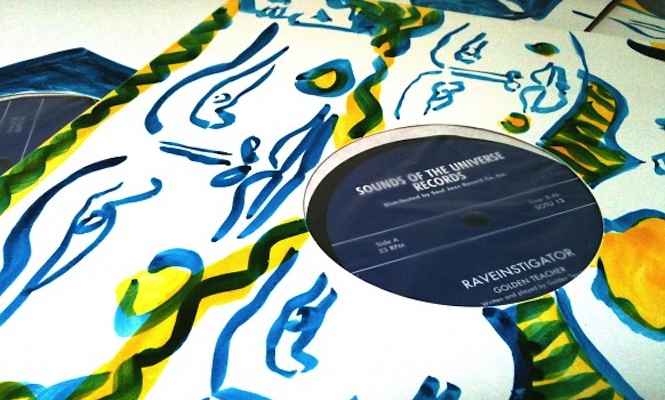 The Teacher go to art school for their latest release.
Incandescent Glasgow six-piece Golden Teacher are releasing their new 12″ in a limited edition run of three hundred copies with individually hand-painted sleeves.
Designed by "ambidextrous conga / ink maestro" Oliver Pitt and "master of Die loose Pinsel" David Roeder, the records are available exclusively from London's Sound Of The Universe.
As for the music, it's another potent shot of punk funk in the 99 Records vein across two big tracks 'Divine' and 'Raveinstigator'. Expect "Chicago Trax-style acid experimentalism + (New) York no wave/mutant dance + King Jammy digital dancehall" as standard.
As well as collecting their first three EPs as an album this week, Golden Teacher's collaboration with dub legend Dennis Bovell was chosen at #2 in our rundown of the best 12″s of 2015.
Check out the gallery of images below and order your copy here.
Next: Listen to Golden Teacher's Primordial Landscape vinyl mix.