Published on
July 27, 2016
Category
News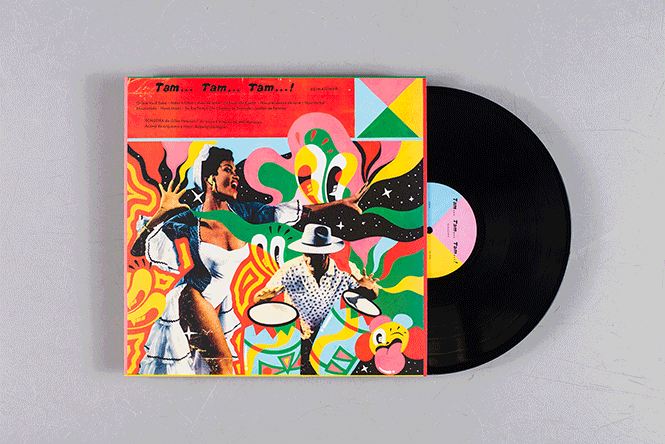 Stream a track featuring Moses Boyd now.
Where Gilles' first Sonzeira project Brasil Bam Bam Bam brought together an all-star Brazilian cast, this second album takes its cue from a curious 1958 artefact; using the record as a springboard for an unrestricted musical adventure.
Of all the Brazilian records that Peterson has encountered over the years, nothing has quite compared to Tam Tam Tam. Hearing the album for the first time through Ed Motta during the making of the last Sonzeira album, sparked a long hunt for Gilles to get his hands on a copy. He even made a live appearance on Channel 4 News and posted in Record Collector Magazine pleading for someone to issue it. Johnny Trunk read the listing and painstaking took on the challenge of reissuing it.
One listen to the original and you'll understand the fuss. Utterly exotic, the male vocals sounding like a Robeson of the southern hemisphere, and both of these qualities are partly on account of the record's origin as the music for a stage show financed by the Brazil Culture Ministry. Created by relatively unknown musician José Prates, it's a sublime piece music that set the blueprint for '60s Brazilian music, particularly heralded for 'Nana Imboro' – the track that would become a Sergio Mendes mega anthem.
A selector with eyes forward as well as backwards, Gilles Peterson has assembled a dream-team – including Will Horrocks of UK bass-meddling duo LV, Rob Gallagher from 2 Banks of 4, London drumming prodigy Moses Boyd and Kassin from Rio's Orquestra Imperial – to meditate on original to build something new, in another study of what makes the music of Brazil so unique.
Hear 'Nada Nada', a modern reworking of Brazilian staple 'Mas Que Nada', above. Of the track Gilles says, "'Mas Que Nada' has been heard in a million forms from Black Eyed Peas to Tamba Trio – 'Nana Nada' uses the source components of that song as created by jJosé Prates but by adding a new arrangement from Rob G with extra studio rhythm beef up by Dill Harris with Moses Boyd and extra weight for the dance by Will LV."
We got hold of a copy of the album and photographed it from all angles, take a closer look in the gallery below. Tam Tam Tam Reimagined is out now on Brownswood Recordings.