Published on
January 17, 2017
Category
News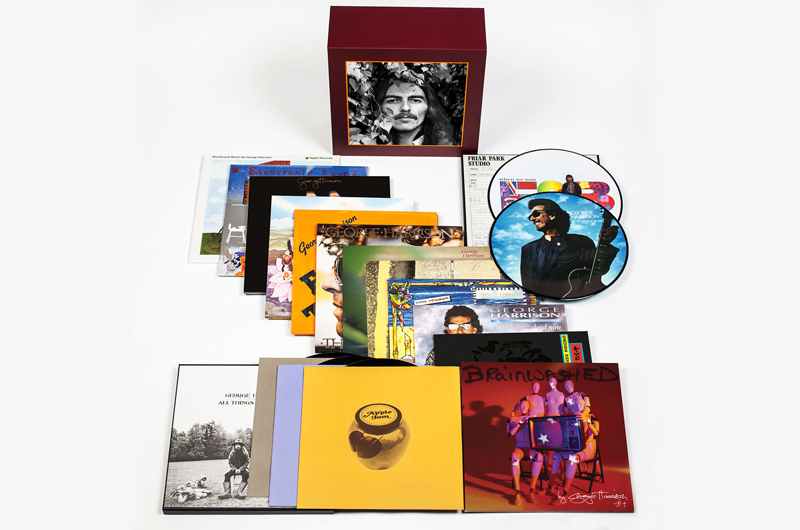 Pro-Ject unveils George Harrison Essential III deck.
The Beatles' resident swami George Harrison is to have all his solo albums collected in one huge vinyl box set next month to mark what would have been his 74th birthday.
As well as Harrison's twelve studio albums, the set will include his Live In Japan LP and two 12″ picture discs of 'When We Was Fab' and 'Got My Mind Set On You'.
Announced on Harrison's website, a limited edition George Harrison turntable on which to play the records has also been unveiled. Adapting Pro-Ject's new Essential III deck, the Harrison turntable features a design by Studio Number One based on an exclusive 2014 art-print lithograph by Shepard Fairey.
An extended edition of Harrison's 1980 autobiography I Me Mine is also set for publication via Genesis Publications, spaning the complete length of Harrison's career in music, told in his own words and through 141 songs with hand written lyric sheets. The 632-page edition now features lyrics to more than 50 songs not previously included, as well promising several previously unpublished photographs.
All records in the box set have been re-mastered from the original analogue masters, cut at Capitol Studios and pressed to heavyweight vinyl. Check out the full album line-up below and get your pre-orders in for the box set, book and turntable ahead of their planned release on 24th February.
George Harrison – The Vinyl Collection box set:
Wonderwall Music (1968) | 1 LP
Electronic Sound (1969) | 1 LP
All Things Must Pass (1970) | 3 LP *limited edition piece
Living In The Material World (1973) | 1 LP
Dark Horse (1974) | 1 LP
Extra Texture (1975) | 1 LP
Thirty Three & 1/3 (1976) | 1LP
George Harrison (1979) | 1 LP
Somewhere in England (1981) | 1 LP
Gone Troppo (1982) | 1 LP
Cloud Nine (1987) | 1 LP
Live In Japan (1992) | 2 LPe
Brainwashed (2002) | 1 LP
12" Picture Disc Singles of 'When We Was Fab' and 'Got My Mind Set On You' (only available as part of the box set)