Published on
September 26, 2016
Category
News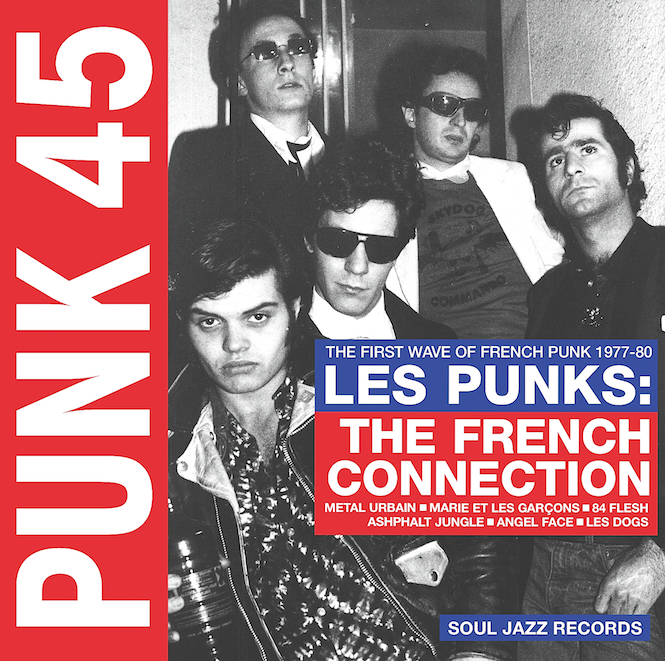 Soul Jazz say bonjour to Les Punks.
The punk scene of France's radical underground is to be celebrated in a new compilation by UK label Soul Jazz Records.
Read more: Proto-punk: 10 records that paved the way for '76
Emerging from a tradition of dissidence and revolution, whether sexual (Serge Gainsbourg) or social (Paris ʻ68 riots), and inspired by proto-punk sounds of the US and UK, bands like Metal Urbain (the first group ever to be signed to Rough Trade Records), Marie et Les Garçons, and Asphalt Jungle, blazed a trail across French music that's rarely given the visibility it deserves.
Paving the way for more experimental cold wave/minimal wave electronic groups such as Kas Product, Charles de Goal and A3 Dans le WC that emerged towards the end of the decade, the French punk scene also helped provide more theoretical frameworks to punk's identity, whether through notions of Dadaism and Surrealism in the US or Situationism in the UK.
The latest in Soul Jazz's Punk 45 series, Les Punks: The French Connection – The First Wave Of French Punk 1977-80 has been pressed on double vinyl and includes a 50+ page out-size booklet.
Due already on 20th September but not yet available for pre-order, keep an eye out on the Soul Jazz website for more information.
Tracklisting
01. Marie et Les Garçons – Rien A Dire
02. Metal Boys – Sweet Marylin
03. Fantomes – I Wanna Be Your Dog
04. Gazoline – Sally
05. A3 Dans Les WC – Photo Couleur
06. Asphalt Jungle – Planté Comme Un Privé
07. Warm Gun – Broken Windows
08. Metal Urbain – Paris Maquis
09. Electric Callas – Kill Me Two Times
10. KaS Product – Mind
11. 84 Flesh – Salted City
12. Les Olivensteins – Euthanasie
13. Angel Face – Wolf City Blues
14. Guilty Razors – Hurts and Noises
15. Dogs – Here Comes My Baby
16. Charles De Goal – Dans Le Labyrinthe
17. Guilty Razors – I Don't Wanna Be A Rich
18. Marie et Les Garçons – A Bout De Souffle
19. Calcinator – Électrifié