Published on
December 3, 2015
Category
News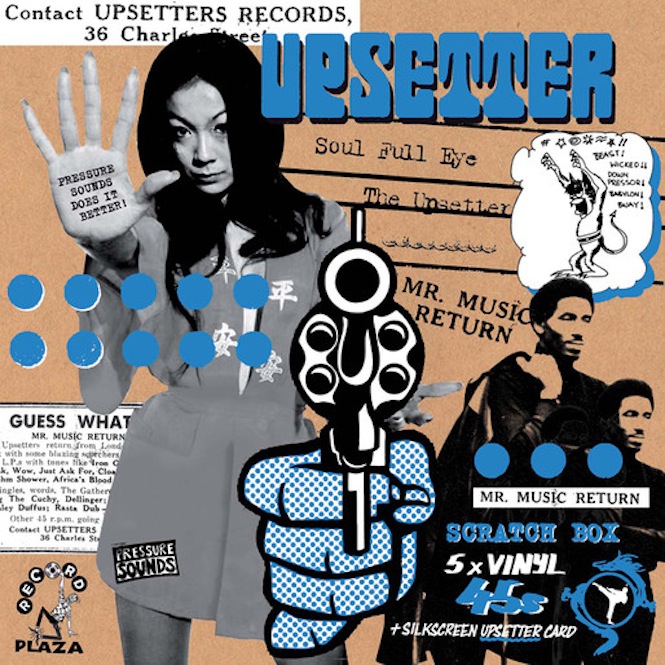 Pressure Sounds revisit the early days of the Upsetter.
Lee "Scratch" Perry is to have ten formative productions released across five 7″s and collected in a silk-screened vinyl box set.
Featuring music recorded in the years before Perry opened his legendary Black Ark studio in Kingston, the "Scratchbox" collection traces the origins of his unique brand of funky, psychedelic dub with tracks from Orlando Kirkland, Jah Lloyd and Jah Byles.
The jewel in the crown though is an unreleased mix of an early Bob Marley recording, the Singer appearing alongside Perry and Dave Barker on 'Shocks Almighty'.
Bob Marley and The Wailers were among reggae heavyweights The Congos, Junior Murvin, Max Romeo, Mighty Diamonds, The Heptones, Augustus Pablo and Jah Lion, who recorded at Black Ark.
The Upsetter "Scratchbox" is released by Pressure Sounds and features 5×7″ singles packaged with their original labels, housed in a hand silk-screened hardback box. Limited to 600 copies, there are four different coloured designs available, so head here to order your copy.
We voted Lee "Scratch" Perry's recent collaboration with XL boss Richard Russell as the most collectable record of 2015. Click here to see the rest of the year's most valuable vinyl releases.