Published on
September 10, 2014
Category
News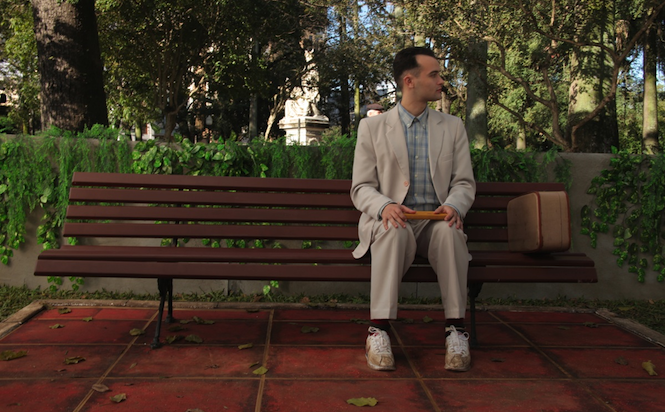 The soundtrack to Forest Gump will be reissued this autumn to commemorate the 20th anniversary of the Academy Award- and Golden Globe-winning film.
Originally released in 1994, the chart-topping, 12-times platinum Forest Gump soundtrack features 32 American classics from the 50s to 70s. Intended to pinpoint specific time periods portrayed on screen, the soundtrack features songs from Elvis Presley, Creedence Clearwater Revival, Bob Dylan, Fleetwood Mac, Aretha Franklin, and many more.
Set for a reissue on 4th November, the songs will find homes across three 180 gram "All American" red, white and blue vinyl. Click here to preorder a copy and see below for the full tracklisting.
In a joint statement, director Robert Zemeckis and writer Eric Roth explained the role of music in the film: "Forrest Gump is about time. A simple man's journey through complicated times. The coming-of-age of a generation and a country. And at the heart of the story is the music. Music that lives with us, always there to remind us of the people, the places, and the events of our time."
Check out this scene from when Forrest met a young Elvis Presley (Peter Dobson):
And also this encounter with President Johnson, to the tune of "Mrs Robinson":
Track Listing
SIDE A
A1 Elvis Presley – Hound Dog
A2 Duane Eddy – Rebel Rouser
A3 Clarence "Frogman" Henry – (I Don't Know Why) But I Do
A4 The Rooftop Singers – The Walk Right In
A5 Wilson Pickett – Land Of 1000 Dances
A6 Joan Baez – Blowin' In The Wind
A7 Creedence Clearwater Revival – Fortunate Son
SIDE B
B1 The Four Tops – I Can't Help Myself (Sugar Pie Honey Bunch)
B2 Aretha Franklin – Respect
B3 Bob Dylan – Rainy Day Women #12 & 35
B4 The Beach Boys – Sloop John B
B5 The Mamas & The Papas – California Dreamin'
B6 Buffalo Springfield For What It's Worth
SIDE C
C1 Jackie DeShannon – What The World Needs Now Is Love
C2 The Doors – Break On Through (To The Other Side)
C3 Simon & Garfunkel – Mrs. Robinson
C4 Jefferson Airplane – Volunteers
C5 The Youngbloods – Let's Get Together
C6 Scott McKenzie – San Francisco (Be Sure To Wear Some Flowers In Your Hair)
SIDE D
D1 The Byrds – Turn! Turn! Turn! (To Everything There Is A Season)
D2 The Fifth Dimension – Medley: Aquarius / Let The Sunshine In
D3 Harry Nilsson – Everybody's Talkin'
D4 Three Dog Night – Joy To The World
D5 The Supremes – Stoned Love
SIDE E
E1 B.J. Thomas – Raindrops Keep Falling On My Head
E2 Randy Newman – Mr. President (Have Pity On The Working Man)
E3 Lynyrd Skynyrd – Sweet Home Alabama
E4 The Doobie Brothers – The It Keeps You Runnin'
E5 Gladys Knight & The Pips – I've Got To Use My Imagination
SIDE F
F1 Willie Nelson – On The Road Again
F2 Bob Seger & The Silver Bullet Band – Against The Wind
F3 Alan Silvestri – Forrest Gump Suite