Published on
October 15, 2018
Category
News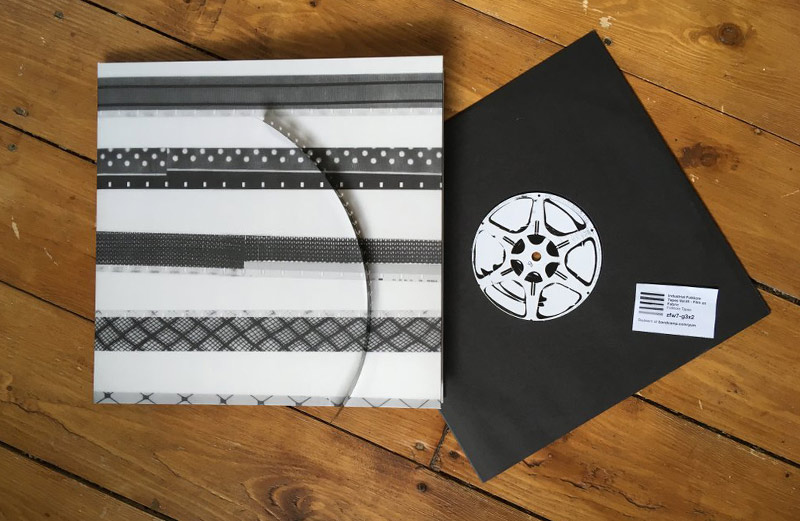 With a 12-page machine-sewn booklet and 16mm fabric photogram.
British label Folklore Tapes' has released the third instalment in its Industrial Series – a live recording from a performance titled Film as Fabric by artist and filmmaker, Mary Stark.
Read more: The archivist: Audio-visual myth-making with meticulous independent label Folklore Tapes
In the piece, Stark examines the relationship between textile practise, cinema and sound, including using filmmaking technology to transform stitch patterns into noise.
The Film as Fabric soundtrack contains recordings from Stark's performance at Crusader Mill in Manchester, Full of Noises Festival, Islington Mill, Manchester Histories Festival and Radio Revolten International Festival of Radio Art. It also features recordings of work song and machinery.
Film As Fabric's 10″ comes in a gatefold sleeve, with a 12-page machine-sewn booklet and a 16mm fabric photogram.
Order a copy here and check out the track list below.
Tracklist
Side A
1. Film as Fabric: Film Performance Excerpts
2. Hello can I have the lights out please?
3. Film projector whirrs
4. In some ways this is a very personal artwork…
5. Unspooling film
6. Oh I was gonna sing a song…
7. The Doffing Mistress
8. Hand crank Singer sewing machine mechanism
9. Electric sewing machine mechanism
10. Puncturing 16mm film with the unthreaded sewing machine needle
11. Stitching film on an electric sewing machine
12. Lacing a film loop in the film projector and turning projector on
13. 'Stitched' rhythms
14. Film editing rack rhythm
Side B
1. 'Stitched' rhythms
2. Pitched fabric patterns
3. Film projector whirrs
4. Dub plate of recordings of industrial machinery at Quarry Bank Mill
5. The Doffing Mistress sampled from The Critic's Group – Peggy Seeger, Frankie Armstrong and Sandra Kerr The Female Frolic 1972 [Vinyl] Argo
6. Applause