Published on
January 15, 2018
Category
News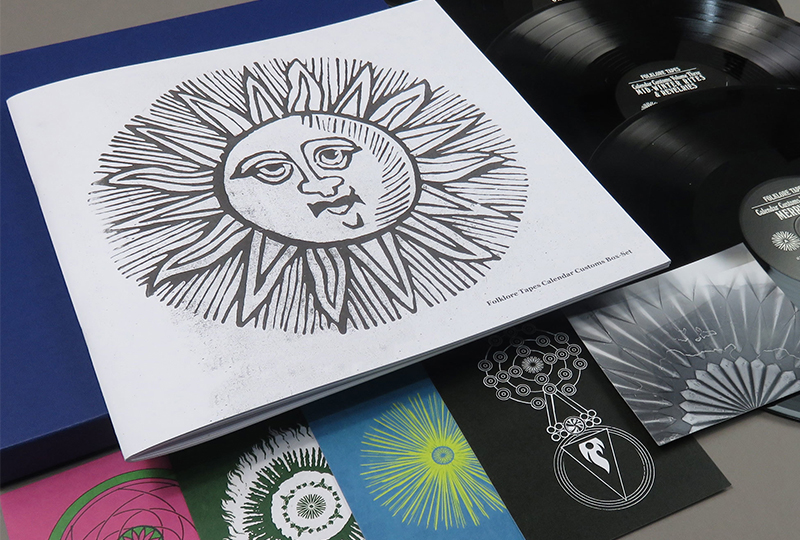 A year long sonic journey through ancient rites and rituals.
Folklore Tapes is releasing a new vinyl box set featuring its 2014 – 2016 Calendar Customs cassettes.
Read next: Audio-visual myth-making with meticulous independent label Folklore Tapes
Originally released as cassette tapes between 2014 and 2016, the series is "an arcane journey reeling around the four corners of the ritual year," shares Folklore Tapes.
"For these compilation albums, each contributing artist researched a specific seasonal custom and, informed by their findings, conjured a sonic movement in response. The pieces are a magnetic assortment of sound collage and foley work, composed music and augmented field-recording."
Calendar Customs limited edition package includes 4 LPs: Merry May, Crown of Light (Midsummer Traditions and Folklore), Fore Hallowe'en, and Midwinter Rites and Revelries. All tracks have been remastered for this first ever vinyl release.
Housed in a hand-numbered and stamped litho-print box, the Calendar Customs set also includes a 40 page booklet with illustrations and research notes, four postcards featuring original artwork, and a photogram print.
Order a copy here, and listen to a selection of its tracks below.
(Photos courtesy of Bleep.com)