Published on
June 28, 2013
Category
News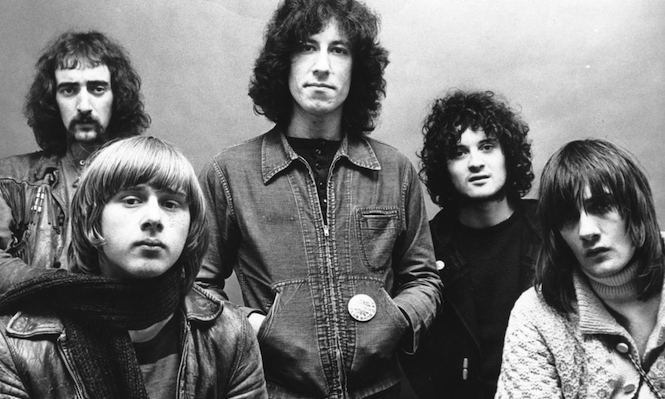 Fleetwood Mac see their first four albums for Reprise reissued in deluxe box-set set for August.
Spanning the Mac's early years between 1969 and 1972, the box set will collect Then Play On (1969), Kiln House (1970), Future Games (1971) and Bare Trees (1972), chronicling the band's early blues and rock 'n' roll sound. The box set release will also be accompanied by an extended reissue of Then Play On, the band's third studio album and their debut on Frank Sinatra's Reprise Records.
Fleetwood Mac's first record with guitarist and songwriter Danny Kirwan, Then Play On would also prove to be their last with the inimitable Peter Green, the band's blistering front-man who went his own way following an ill-fated stay at a commune outside Munich in the Spring of 1970.
Likewise, the final LP in the box-set would prove to be Kirwan's last, with the band's ever changing roster and fluctuating sound beginning to edge towards the pop and folk that would be defined by the arrival of American darlings Stevie Nicks and Lindsay Buckingham two years later.
Fleetwood Mac 1969-1972 and Then Play On will be released by Rhino on August 20th, with the box set also including the original 1969 7-inch single of Peter Green's rip-roaring "Oh Well – Pt. 1" b/w "Oh Well – Pt. 2".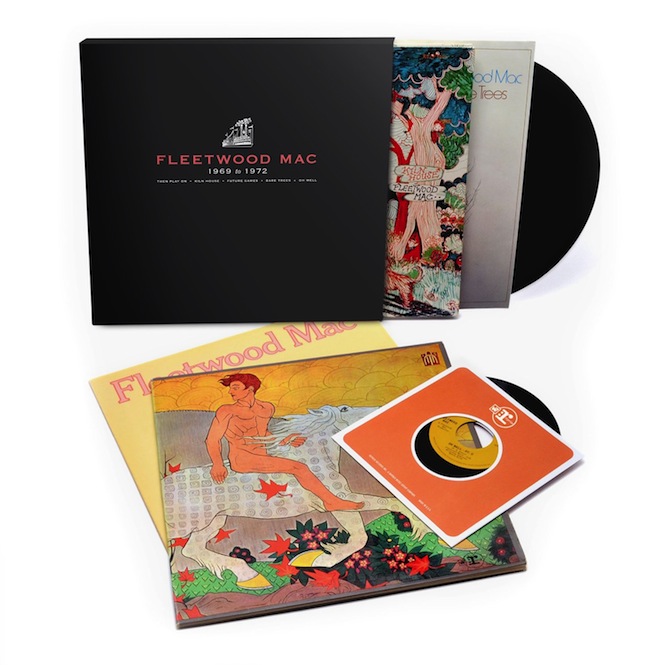 THEN PLAY ON: EXPANDED EDITION
Track Listing
1. "Coming Your Way"
2. "Closing My Eyes"
3. "Fighting For Madge"
4. "When You Say"
5. "Show Biz Blues"
6. "Underway"
7. "One Sunny Day"
8. "Although The Sun Is Shining"
9. "Rattlesnake Shake"
10. "Without You"
11. "Searching For Madge"
12. "My Dream"
13. "Like Crying"
14. "Before The Beginning"
Bonus Tracks
15. "Oh Well – Pt. 1"
16. "Oh Well – Pt. 2"
17. "The Green Manalishi (With The Two Prong Crown)"
18. "World In Harmony"
FLEETWOOD MAC: 1969-1972
Track Listing
Then Play On (1969)
Side 1
1. "Coming Your Way"
2. "Closing My Eyes"
3. "Fighting For Madge"
4. "When You Say"
5. "Show Biz Blues"
6. "Underway"
7. "One Sunny Day"
Side 2
1. "Although The Sun Is Shining"
2. "Rattlesnake Shake"
3. "Without You"
4. "Searching For Madge"
5. "My Dream"
6. "Like Crying"
7. "Before The Beginning"
Kiln House (1970)
Side 1
1. "This Is The Rock"
2. "Station Man"
3. "Blood On The Floor"
4. "Hi Ho Silver"
5. "Jewel Eyed Judy"
Side 2
1. "Buddy's Song"
2. "Earl Gray"
3. "One Together"
4. "Tell Me All The Things You Do"
5. "Mission Bell"
Future Games (1971)
Side 1
1. "Woman Of 1000 Years"
2. "Morning Rain"
3. "What A Shame"
4. "Future Games"
Side 2
1. "Sands Of Time"
2. "Sometimes"
3. "Lay It All Down"
4. "Show Me A Smile"
Bare Trees (1972)
Side 1
1. "Child Of Mine"
2. "The Ghost"
3. "Homeward Bound"
4. "Sunny Side Of Heaven"
Side 2
1. "Bare Trees"
2. "Sentimental Lady"
3. "Danny's Chant"
4. "Spare Me A Little Of Your Love"
5. "Dust"
6. "Thoughts On A Grey Day"
Bonus 7" Single
Side 1
"Oh Well – Pt. 1"
Side 2
"Oh Well – Pt. 2"