Published on
June 6, 2015
Category
News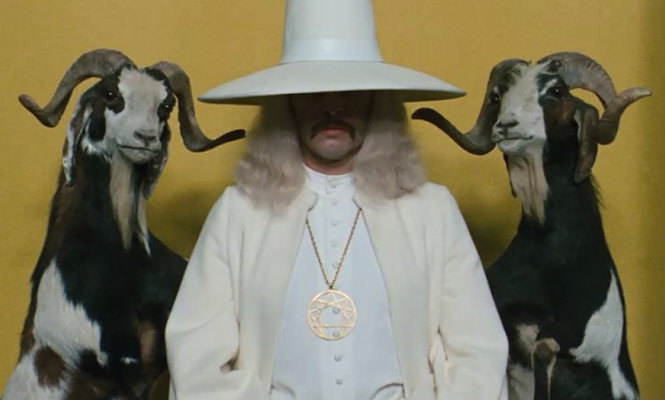 Holy grail soundtrack finally gets vinyl release after forty years in the wilderness.
"Nothing in your experience or education can have prepared you for this film". Never has the trailer for a film peddled such an understatement as this. Up there with the most surreal, mind-bending and utterly fantastical pieces of cinema ever created, The Holy Mountain is to finally see its soundtrack pressed to vinyl, over forty years since it was mooted in the film's end title sequence.
A casualty of Jodorowsky and executive producer Allen Klein's thirty-something year stand-off, the soundtrack has, in its absence, assumed a near mythical status matched only by the film itself, a shimmering mirage taunting film and music fans with unfulfilled and unfulfillable promise.
Until now. Along with Jodorowsky's other two Allen Klein produced films El Topo and The Dance Of Reality, The Holy Mountain soundtrack is to get its first ever vinyl release, complete with original cues, exclusive interviews, lost info and a rare European film poster. Oh and Thurston Moore and Kieren Hebden have given it their blessings too. Still not convinced? Finders Keepers have done their best to sum up just what's so special about it:
The unreleased soundtrack to the most fantastic transcendental spiritual cinematic explosion of our time? The lost Don Cherry album? The missing Jazz Composers Orchestra album featuring Charlie Haden, Carla Bley and Frank Lowe? The Elephant's Memory soundtrack follow-up to Midnight Cowboy? The lost soundtrack album secretly funded and A&R'd by John Lennon and Yoko Ono? The music to the film that George Harrison was sacked from because he didn't want us to see his butt hole? The orch rock LP made by the arranger of the collectable Mandrake Memorial prog pop LP? Walter Sears undiscovered studio experiments? The record that The Beatles' managers didn't want you to hear? The true axis between New York psych rock, free jazz and Swedish prog rock?
Sold. You can order The Holy Mountain now.