Published on
May 10, 2013
Category
News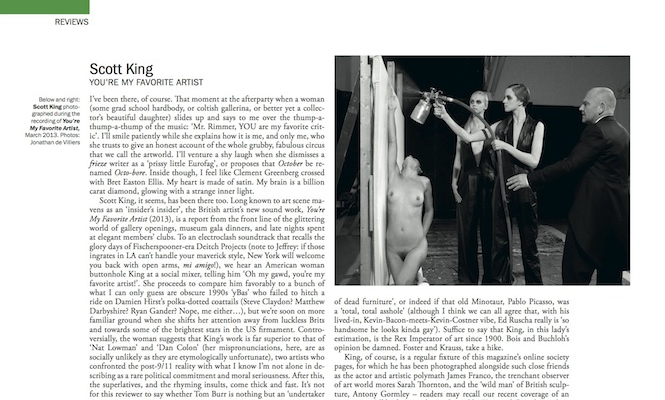 To coincide with the 2013 Frieze Art Fair in New York, The Vinyl Factory has collaborated with legendary artist and former art director of i-D magazine Scott King to release "You're My favourite Artist", King's scathing satire of the celebrity art world.
Based on a real experience he had in New York, Scott King's debut release sets the manic adulation of an over-stimulated social butterfly to an ominous electronic beat to create what is essentially a fiendishly self-referential dance track.
Accompanied by a deceptive cover sleeve that masquerades as a glowing Artforum review of King's track by an excitable, fawning hack, the package is both a tongue in cheek poke at, and bitter indictment of the more vacuous aspects of the modern art scene and its penchant for elevating artists into celebrities.
Invited to make the record by The Vinyl Factory, Scott King recruited old friend James Fry (Earl Brutus), producer Tim Larcombe and singer Polly Martyn to bring the track to life, which will be pressed in a limited edition run of just 300 copies, each hand-signed by the artist.
Producing work of over 15 years, Scott has worked as the art and creative director of i-D and Sleazenation magazines, designed record sleeves for Pet Shop Boys and Morrissey and has worked under the banner "CRASH!" with Matthew Worley.
Listen to an exclusive stream of "You're My favourite Artist" below:
Available from the 10th May, you can order a copy by visiting the VF Editions shop.