Published on
November 4, 2016
Category
News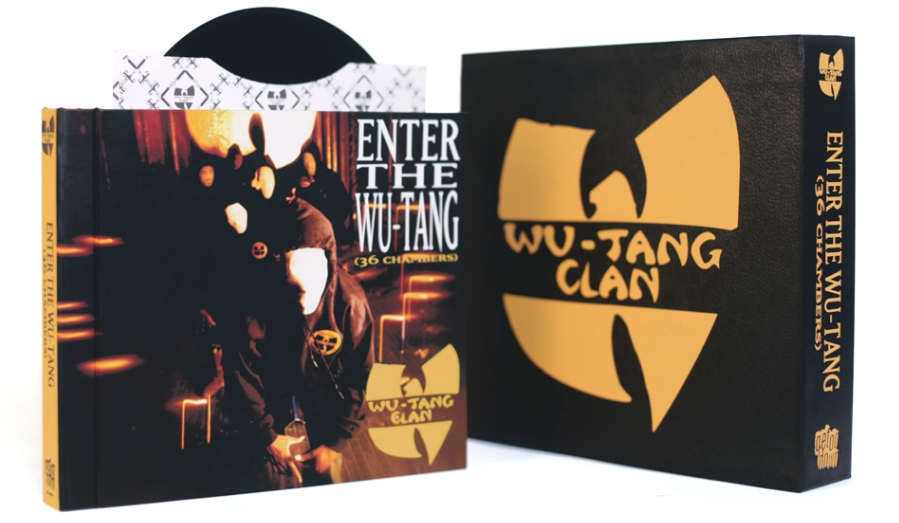 Created with the RZA.
Wu-Tang Clan's classic debut album Enter the Wu-Tang (36 Chambers), originally released in 1993, will be re-released as a unique 7″ edition.
Created in collaboration with RZA, the album is presented as a hardback "Casebook", featuring the album's twelve full songs, divided into six 7-inch records. There is also a bonus 7″ of 'Protect Ya Neck (Bloody Version) / Tearz [aka After The Laughter Comes Tears', which is the same A- and B-Side as the group's original first self-released single. See photos in this gallery:
Housed in a premium leatherette outer slipcase, the pack features a 56-page in-depth liner notes book, with new RZA input and interviews, extensive research by journalist Chris Faraone, album lyrics, rarely-seen imagery from the Enter The Wu-Tang era. Also included is two handy Wu-Tang 45 adapters.
As RZA recalls to Chris Faraone in the liner notes book:
"[Considering] the trouble we were going through, being young black men in America trying to find our way, I definitely had the confidence that [making music] was the way out of it … When Loud announced that 36 Chambers went platinum, that right there was confirmation. I remember saying to myself that MC Hammer sold 10 million records, but that's 10 million people who still sleep. If Wu-Tang sold a million, that's a million people who woke up."
The first 1,000 orders will begin shipping in early December exclusively via Get on Down. Find the tracklist below.
Tracklist
1A: Bring Da Ruckus
1B: Shame On A Nigga
2A: Clan In The Front
2B: Wu-Tang: 7th Chamber
3A: Can It All Be So Simple / Intermission
3B: Da Mystery Of Chessboxin'
4A: Wu-Tang Clan Ain't Nothing Ta F' Wit
4B: C.R.E.A.M.
5A: Method Man
5B: Protect Ya Neck
6A: Tearz
6B: Wu-Tang: 7th Chamber – Part II / Conclusion
Bonus 7″
7A: Protect Ya Neck (Bloody Version)
7B: Tearz [aka After The Laughter Comes Tears]