Published on
March 25, 2015
Category
News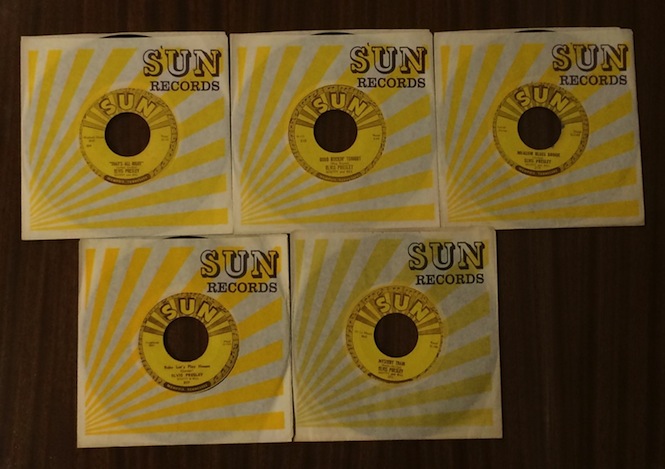 The King's five original Sun Records 7″s are up for sale on eBay in unrivalled condition.
Last month Jack White revealed himself as the mystery buyer of Elvis Presley's first ever recordings and unveiled plans to reissue it for Record Store Day this year. The 1953 acetate cost him $300,000.
Equally unprecedented, if not quite so expensive, is the haul of five singles Elvis Presley cut for Sun Records between 1954 and 1955, which have been listed as one complete 'near mint' set on eBay for $32,500.
The "holy grails of Rock and Roll" include Elvis' very first single 'That's All Right, Mama' backed with 'Blue Moon Of Kentucky', 'Good Rockin' Tonight' b/w 'I Don't Care If The Sun', 'Milkcow Blues Boogie' b/w 'You're Heartbreaker', 'Baby Let's Play House' b/w 'I'm Left, You're Right, She's Gone' and 'Mystery Train' backed with 'I Forgot To Remember To Forget'.
Listed by a certain John Tefteller, the collector who spent over $37,000 on a super rare 78 he already owned, the set is described as "world class records for a world class record collection" and has been priced accordingly, with a similar set sold by Tefteller for £35,000 a few years ago.
You can read the full description about just how special these records are and follow the auction on the eBay page here.