Published on
November 14, 2016
Category
News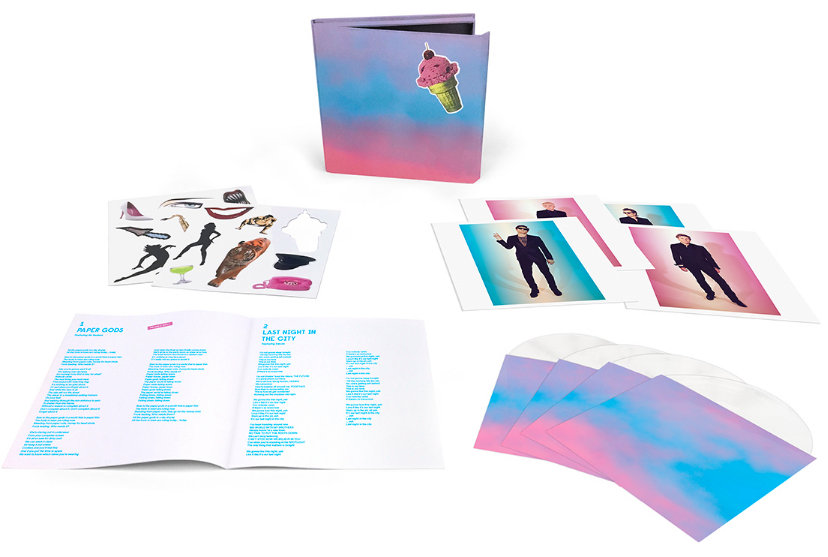 350 copies only.
Duran Duran have teamed up with renowned Los Angeles artist Alex Israel, under the the creative direction of China Chow, to create an extraordinary limited edition of their new album, Paper Gods.
The album will be released as four 12″ white vinyl records in bespoke sleeves, housed in a custom-made magnetised clamshell box set.
The package features seventeen kiss cut magnets, four art prints screen printed on Rainbow mirri board, and a thirty-six page booklet printed on 150gsm silk paper stock. Also included is an individually numbered certificate, hand signed by the band and Alex Israel.
Israel, whose paintings, films and sculptures are known for their depictions of Hollywood as "the world's primary desire factory", created Paper Gods' original artwork. The album cover – a reproduction of Israel's Sky Backdrop painting paired with a collage of images representing various stages of Duran Duran's storied career – takes on new life in this box set incarnation.
The ultimate collector's item, this is the only product gathering the complete set of songs recorded for the Paper Gods sessions, including exclusive versions of 'Pressure Off' and the previously unreleased track 'As Seen From A Distance'.
Due on 28 November, place pre-orders for Paper Gods (Limited Edition Box Set) from VF Editions.
Tracklist
Vinyl 1
A1. Paper Gods (Feat. Mr Hudson)
A2. Last Night In The City (Feat. Kiesza)
A3. You Kill Me With Silence
B1. Pressure Off (Feat. Janelle Monae and Nile Rodgers)
B2. Face For Today
B3. Danceophobia
Vinyl 2
A1. What Are The Chances
A2. Sunset Garage
A3. Change The Skyline (Feat Jonas Bierre)
B1. Butterfly Girl
B2. Only In Dreams
B3. The Universe Alone
Vinyl 3
A1. Planet Roaring
A2. Valentine Stones
A3. Northern Lights
B1. As Seen From A Distance
B2. On Evil Beach
B3. Cinderella Ride
Vinyl 4
A1. Pressure Off (Night Version Feat. Janelle Monae and Nile Rodgers)
B1. Pressure Off (Night Version Instrumental Feat. Janelle Monae and Nile Rodgers)