Published on
September 16, 2014
Category
News
Late disco queen, Donna Summer, will be celebrated with a limited edition seven-album vinyl collection due for release this December. 
An iconic disco star, and recently inducted into the Rock & Roll Hall Of Fame, this release is big news for veteran Donna Summer fans and the new generation of admirers alike. It maps a 35-year long career including gold-certified albums, chart-topping singles and collaborations with Michael Jackson, Stevie Wonder, Bruce Springsteen, and many more. Her work with Giorgio Moroder enabled her to capture the disco era spirit perfectly, but at the turn of the 1980s she embarked on a new chapter, making a segue into a bluesy, pop-rock sound.
Have a look at this rather sultry music video for "Bad Girls" from 1979:
The Donna Summer Vinyl Collection collates six albums, originally released on Geffen Records and Atlantic Records (The Wanderer, Donna Summer, Cats Without Claws, All Systems Go, Another Place And Time and Mistaken Identity). And it includes a seventh, previously shelved album, from 1981 called I'm A Rainbow that has never before had a vinyl release, and will be housed in a two-LP gatefold sleeve. The box set also comes with linear notes, plus archive interviews with the disco queen herself.
The release date is December 1st, click here to pre-order a copy now.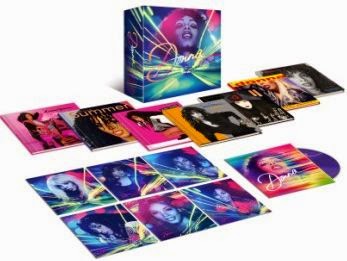 Track List
The Wanderer
1.The Wanderer  3.47
2. Looking Up  3.57
3. Breakdown  4.08
4. Grand Illusion  3.54
5. Running For Cover  4.01
6. Cold Love  3.38
7. Who Do You Think You're Foolin'  4.18
8. Nightlife  4.00
9. Stop Me  3.44
10. I Believe In Jesus  3.37
Donna Summer
1. Love Is In Control (Finger On The Trigger)  4.18
2. Mystery Of Love  4.25
3. The Woman In Me  3.55
4. State Of Independence  5.50
5. Livin' In America  4.41
6. Protection  3.35
7. (If It) Hurts Just A Little  3.52
8. Love Is Just A Breath Away  3.55
9.  Lush Life  6.26
Cats Without Claws
1. Supernatural Love  3.38
2. It's Not The Way  4.22
3. There Goes My Baby  4.05
4. Suzanna  4.29
5. Cats Without Claws  4.20
6. Oh Billy, Please  4.55
7. Eyes  4.45
8. Maybe It's Over  4.43
9. I'm Free  4.29
10. Forgive Me  4.30
All Systems Go
1. All Systems Go  4.13
2. Bad Reputation  4.14
3. Love Shock  4.16
4. Jeremy  4:40
5. Only The Fool Survives (Duet with Mickey Thomas)  4.42
6. Dinner With Gershwin  4.39
7. Fascination  4.30
8. Voices Cryin' Out  5.20
9. Thinkin' Bout My Baby  6.20
Another Place And Time
1. I Don't Wanna Get Hurt  3.28
2. When Love Takes Over You  4.13
3. This Time I Know It's For Real  3.38
4. The Only One  3.55
5. In Another Place And Time  3.22
6. Sentimental  3.11
7. Whatever Your Heart Desires  3.52
8. Breakaway  4.04
9. If It Makes You Feel Good  3.45
10. Love's About To Change My Heart  4.03
Mistaken Identity
1. Get Ethnic  5.21
2. Body Talk  4.58
3. Work That Magic  4.59
4. When Love Cries  5.15
5. Heaven's Just A Whisper Away  4.06
6. Cry Of A Waking Heart  4.36
7. Friends Unknown  3.44
8. Fred Astaire  4.40
9. Say A Little Prayer  4.07
10. Mistaken Identity  4.08
11. What Is It You Want  4.40
12. Let There Be Peace  3.59
I'm A Rainbow
LP1
1. I Believe (In You)(duet with Joe 'Bean' Esposito)  4.31
2. True Love Survives  3.36
3. You To Me  4.39
4. Sweet Emotion  3.44
5. Leave Me Alone  4.04
6. Melanie  3.38
7. Back Where You Belong  3.52
8. People Talk  4.15
9. To Turn The Stone  4.20
LP2
1. Brooklyn  4.35
2. I'm A Rainbow  4.06
3. Walk On (Keep On Movin')  3.49
4. Don't Cry For Me Argentina  4.27
5. A Runner With The Pack  4.06
6. Highway Runner  3.27
7. Romeo  3.17
8. End Of The Week  3.38
9. I Need Time  4.23