Published on
July 16, 2013
Category
News
James Murphy and Four Tet feature in graphic designer Alex Trochut's series of prints that portray DJs' different personas by day and by night.
Much like the clubs in which they play, you don't often get a glimpse of what DJs look like during sunlight hours. Touring clubs from New York to Berlin, designer Alex Trochut photographed DJs backstage at gigs and developed an innovative glow-in-the-dark printing technique that allowed him to present both images simultaneously.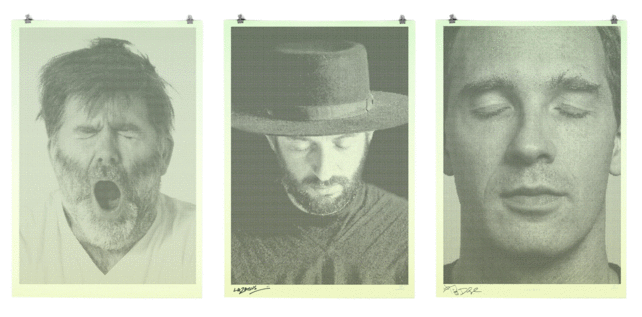 Speaking to Co.Design, Trochut said: "I started to wonder if I could work on two images on the same surface: one of the day and one for the night", in which the chequered and intermeshed printing technique would reveal both images – one in light, the other in darkness.
Featuring James Murphy, John Talabot, Four Tet, Caribou and Acid Pauli among others, Binary Prints was premiered at Sonar Festival this year. Find out more at www.binary.prints.com and check out a few of the images below. [via Co.Design]
Very much in night mode, James Murphy will be premiering his vinyl-only "Despacio" soundsystem at Manchester International Festival this week. Click here to find out more.