Published on
September 16, 2016
Category
News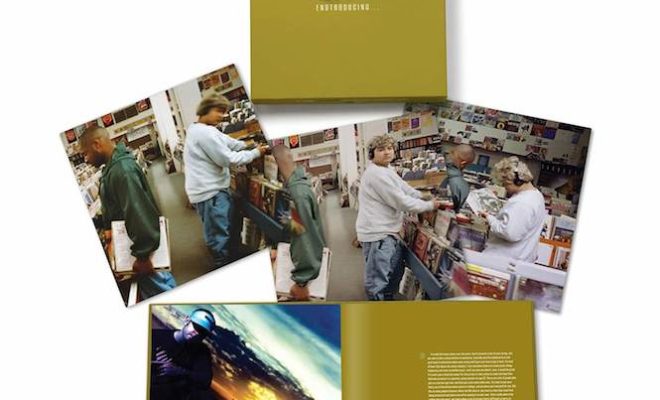 Endtrospective.
DJ Shadow has announced a massive Endtroducing… reissue package called Endtrospective, celebrating 20 years of the crate-digging classic.
The six LP (or three CD) package includes the original album as well as a bundle of demos, alternate takes and live versions labelled Excessive Ephemera, and a brand new remix album, Pitchfork reports. In addition to the Clams Casino and Hudson Mohawke remixes announced earlier this week, Endtroducing… Re-Imagined, will feature remixes from Prince Paul, Teklife, Adrian Younge, Salva and more.
The set features liner notes and an interview between Shadow and Eliot Wilder, who wrote the 33 1/3 book on Endtroducing… and also our definitive piece on the album.
Hear Clams Casino's remix of 'Stem Long Stem' and find the complete reissue / remix tracklist below.
Endtroducing…:
01 Best Foot Forward
02 Building Steam With A Grain Of Salt
03 The Number Song
04 Changeling
05 What Does Your Soul Look Like Part 4
06 Untitled
07 Stem / Long Stem
08 Mutual Slump
09 Organ Donor
10 Why Hip Hop Sucks in '96
11 Midnight In A Perfect World
12 Napalm Brain / Scatter Brain
13 What Does Your Soul Look Like Part 1 – Blue Sky Revisit
Excessive Ephemera:
01 Best Foot Forward – Alternate Version
02 Building Steam With A Grain Of Salt – Alternate Take Without Overdubs
03 The Number Song – Cut Chemist Party Mix
04 Changeling – Original Demo Excerpt
05 Stem – Cops 'N' Robbers Mix
06 Soup
07 Red Bus Needs To Leave!
08 Mutual Slump – Alternate Take Without Overdubs
09 Organ Donor –Extended Overhaul
10 Why Hip Hop Sucks in '96 – Alternate Take
11 Midnight In A Perfect World – Gab Mix
12 Napalm Brain – Original Demo Beat
13 What Does Your Soul Look Like – Peshay Remix
14 DJ Shadow Live In Oxford, England, Oct. 30, 1997
Endtroducing… Re-Imagined:
01 Best Foot Forward – Teeko Remix
02 Building Steam With A Grain Of Salt – Salva Remix
03 The Number Song – Lee Bannon Remix
04 Transmissions – Kuedo Remix
05 Changeling II – Adrian Younge Remix
06 What Does Your Soul Look Like Part 4 – Teklife Remix
07 Stem / Long Stem – Clams Casino Remix
08 Mutual Slump – Daedelus Remix
09 Organ Donor – UZ Remix
10 Midnight In A Perfect World – Hudson Mohawke Remix
11 What Does Your Soul Look Like Part 1 – Prince Paul Remix
12 Building Steam With A Grain Of Salt – Bondax & Karma Kid Remix