Published on
July 24, 2017
Category
News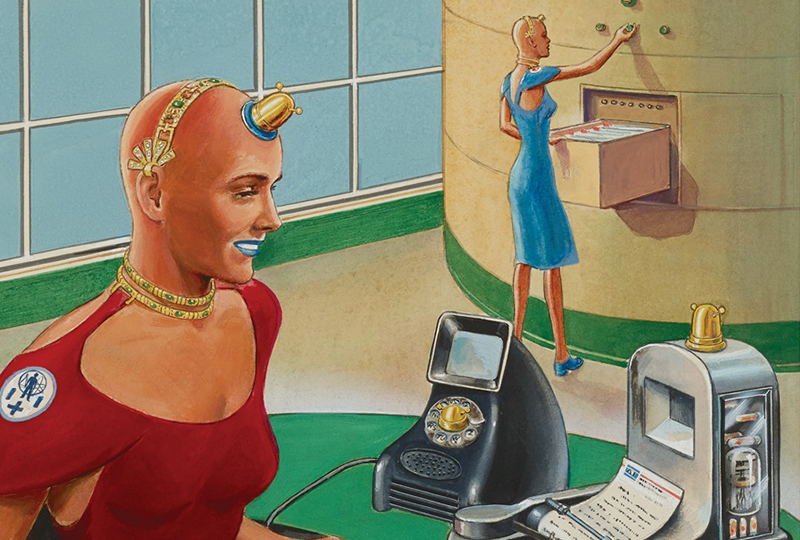 An Uncontrollable Urge to reissue on wax.
Recombo DNA, a collection featuring studio demos and unreleased tracks recording by the band between 1977-2008, is being released in a limited-edition coloured vinyl set.
Read more: An introduction to art pop pioneers Devo in 10 records
Previously only available in CD format, the 4xLP package, out 11 August 2017, comes in 3 colour variations: 'Petri Dish', 'Emergency Codes' and 'Molecular Mutation', along with a 3" Mini CD of unreleased 'The Somewhere Suite', A1 colour poster, download code and liner notes from Devo's Gerald D Casale.
Pre-order a copy here and check out the full track list below:
Sequence (a)
A1. Necessary Response With Gerald Casale
A2. Recombo DNA (Demo)
A3. The Words Get Stuck In My Throat (Live)
A4. Sloppy (I Saw My Baby Gettin') (Demo)
A5. Be Stiff (Alternate Mix)
A6. Pink Pussycat (Demo)
A7. Goo Goo Itch (Alternate Version)
A8. Strange Pursuit (Demo)
Sequence (b)
B1. The Day My Baby Gave Me A Surprise (Demo)
B2. Bushwacked (Prosthetic Version)
B3. Girl U Want (Demo Alternate Version)
B4. Turn Around (Demo Alternate Version)
B5. Snowball (Demo Alternate Version)
B6. Luv & Such
B7. Conscious Mutation With Mark Mothersbaugh
Sequence (c)
C1. Gates Of Steel (Demo Alternate Version)
C2. Planet Earth (Demo Alternate Version)
C3. Whip It (Demo Alternate Version)
C4. Cold War (Demo Alternate Version)
C5. Time Bomb
C6. That's Pep (Demo Alternate Version)
C7. Mental Warfare With Gerald Casale And Mark Mothersbaugh
Sequence (d)
D1. Ton 'O Luv (Instrumental Demo)
D2. Make Me Dance (Labeled 'Make Me Move')
D3. Gotta Serve Somebody (Live) By Dove
D4. I Saw Jesus
D5. Psychology Of Desire (Demo)
D6. Pity You (Demo)
Sequence (e)
E1. Beautiful World (Demo)
E2. Race Of Doom (Demo)
E3. I Desire (Demo)
E4. Big Mess (Demo)
E5. Pink Pussycat (Demo)
E6. The 4th Dimension (Alternate Rough Mix)
E7. Here To Go (Alternate Rough Mix)
Sequence (f)
F1. Some Things Don't Change (Rough Mix)
F2. Big Adventure (Rough Mix)
F3. No Noise (Rough Mix)
F4. Love Is Stronger Than Dirt
F5. Faster And Faster
F6. Modern Life
F7. We Are Unique With Gerald Casale And Mark Mothersbaugh
Sequence (g)
G1. The Only One (Demo) With Vocal By Toni Basil
G2. Baby Doll (Demo)
G3. Some Things Never Change (Demo)
G4. Plain Truth (Demo)
G5. Happy Guy (Demo)
Sequence (h)
H1. Before Baby Doll There Was Satan With Mark Mothersbaugh
H2. Satan (Pre-Baby Doll)
H3. Red Alert (Unreleased)
H4. Sad Song (Unreleased Instrumental)
H5. Mind Games (Demo)
H6. Later Is Now (Instrumental)
H7. It's Not Nuclear Bombs You Must Fear With Booji Boy
Sequence (i)
I1. The Somewhere Suite (Studio Version Demo)