Published on
July 29, 2013
Category
News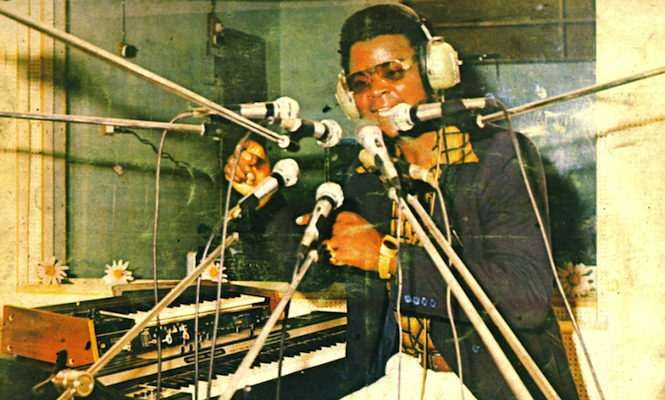 Luaka Bop crack the curious tale of William Onyeabor for long-awaited Autumn retrospective, with Caribou, Dam Funk and more lined up for collaborations.
Despite the proliferation of reissues and compilations that have done their best to document the early electronic experiments in sound from western Africa's burgeoning Afro-funk scene, one man has remained elusively resistant to being tracked down. Recording eight LP's of highly innovative synth-driven electro-funk with an Afro bent between 1977 and 1985, the enigmatic William Onyeabor is said to have turned his back on the Lagos disco inferno to become a devout "Born Again".
The scant information of Onyeabor's past paints a fittingly eccentric picture. Apparently crowned High Chief of Enugu, the town in Southwestern Nigeria where he now lives and works as the owner of a successful flour mill, Onyeabor started his career studying cinematography in the Soviet Union, before retuning home to set up Wilifilms, the label which released all eight of his LPs.
Achieving cult status among collectors and connoisseurs of 70's and 80's electronic afro-beat in the vain of Cameroonian artist Francis Bebey, whose work was reappraised on Born Bad Records last year, only one copy of one original Onyeabor release – the 1978 hit Atomic Bomb – is currently available on Discogs, priced at almost £130.
Celebrating their 25th anniversary by resurrecting the successful World Psychedelic Classics series (on which Shuggie Otis, Os Mutantes and more have featured), the 13 track Who Is William Onyeabor? will seek out the essence of the William Onyeabor sound – an infectious groove built on a brittle tapestry of crude electronic percussion, sweeping synths and a powerful, up-beat message.
Luaka Bop have also announced a string of retrospective collaborations set to feature Caribou (who've reworked Bebey too), Dâm-Funk, Devendra Banhart and John Talabot among others, which will be released after the initial LP.
Earlier this year saw the release of the William Onyeabor produced Cikamele by N'Draman Blintch, which you can read about in more detail here.
Who Is William Onyeabor? will be released on October 15th. In advance you can download the steaming "Good Name" from williamonyeabor.com, or listen to the killer "When The Going Is Smooth and Good" below: