Published on
May 24, 2016
Category
News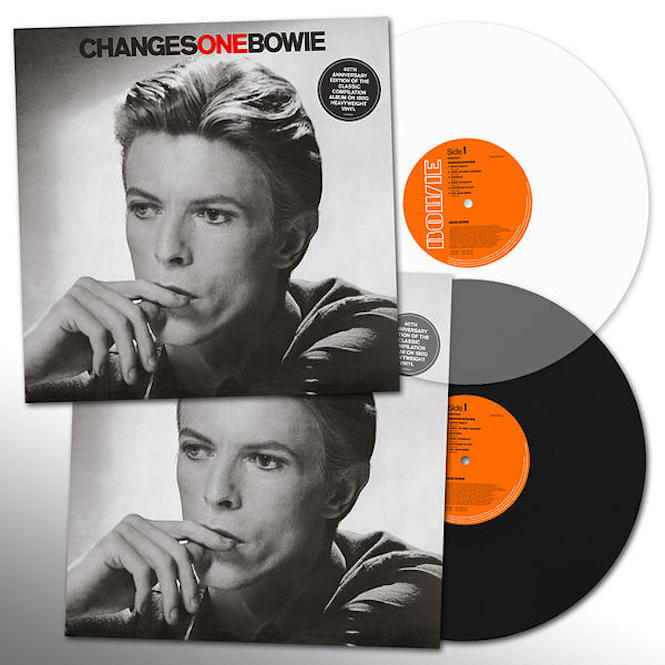 More Bowie reissues.
David Bowie's first ever best of compilation, Changesonebowie stayed in the Top 10 for eleven weeks, peaking at #2, when it was released in 1976.
The album turns 40 this May and to mark the occasion, Parlophone have reissued the item on 'random' vinyl – so that half of the records are pressed to regular black vinyl and the other half to clear. As the label say, "this creates what is possibly the first vinyl equivalent of Schrödinger's cat for collectors who decide to leave their records sealed."
The comp collects songs from Bowie's fruitful '69 to '76 period, including a sax version of 'John, I'm Only Dancing', plus iconic tracks like 'Space Oddity', 'Changes' and 'Ziggy Stardust'.
The cover shot, pictured above, was taken by Tom Kelley, who took those iconic nude calendar photographs of Marilyn Monroe on red velvet back in 1949.
Changesonebowie has also been made available on CD for the very first time. Find the tracklist below and order here.
Following Bowie's death in January, a wave of classic Bowie LPs have been reissued on vinyl. It's also come to light that his Blackstar album has been hiding some secrets.
Changesonebowie tracklist
Side 1
Space Oddity
John, I'm Only Dancing
Changes
Ziggy Stardust
Suffragette City
The Jean Genie
Side 2
Diamond Dogs
Rebel Rebel
Young Americans
Fame
Golden Years