Published on
November 14, 2016
Category
News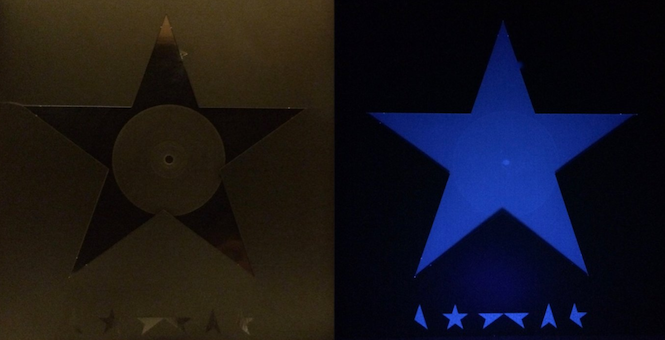 "Blackstar + Blacklight = Something cool?"
In an interview with Mary Ann Hobbes on Radio 6 Music yesterday, the designer behind David Bowie's Blackstar album cover Jonathan Barnbrook hinted that there are more secrets to the iconic artwork that fans have yet to discover.
As well as the star field, which emerges if the cover is exposed to sunlight, Barnbrook said that "there's actually a few other things as well". He continues: "Actually, there's one big thing which people haven't discovered yet on the album. Let's just say, if people find it, they find it, and if they don't, they don't. And remember what Bowie said about not explaining everything."
Well, it hasn't taken resourceful fans long to uncover what could be another of the album cover's secrets. Posting on Twitter as @robborobson21, Matt has shared a picture of the cover exposed under a blacklight which appears to show the album cover design glowing a fluorescent blue.
We asked Matt how he made the discovery: "You can blame Mary Anne Hobbs! She had Jonathan Barnbrook (Bowie's long time collaborator) on her show and they were talking about the fact that there's still uncovered secrets within the artwork. It had been bugging me all day….then I had a thought; Blackstar + Blacklight = Something cool? Turned out that it worked!"
Check it out below:
You may have heard what happens if you expose it to sunlight. Well, it turns out that if you put the Blackstar LP under a blacklight…. pic.twitter.com/WvDg7xkF8t

— Matt (@RobboRobson21) November 13, 2016
While this has yet to be confirmed as one of the special features Barnbrook hinted at, it certainly is "something cool". Try it yourself and tweet us your findings at @thevinylfactory.