Published on
February 29, 2016
Category
News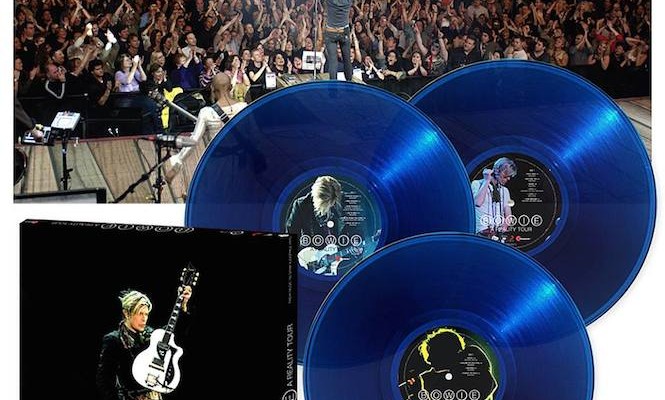 David Bowie's final tour recordings come to vinyl.
Bowie's last concerts took place over a decade ago with A Reality Tour. Spanning Bowie's 30-odd years in the music business, from The Man Who Sold the World right up to the then current Reality, his Dublin leg of the the tour was filmed for a DVD and was later released on CD. That live album will now be released on vinyl for the very first time.
The triple LP box set features 33 tracks, nearly three hours of classic Bowie, pressed on to 180g, translucent blue vinyl. Complete with two poster inserts of live performance shots, the limited edition package arrives housed in "a very handsome sturdy box".
Set for release on June 1, pre-order A Reality Tour from Friday Music and check out the complete tracklist below.
The release follows last month's campaign which saw six Bowie albums receive individual vinyl reissues.
A Reality Tour
A1. Rebel, Rebel
A2. New Killer Star
A3. Reality
A4. Fame
A5. Cactus
A6. Sister Midnight
B1. Afraid
B2. All the Young Dudes
B3. Be My Wife
B4. The Loneliest Guy
B5. The Man Who Sold the World
B6. Sunday
C1. Fantastic Voyage
C2. Hallo Spaceboy
C3. Under Pressure
C4. Life on Mars
C5. Battle for Britain (The Letter)
C6. Never Get Old
D1. Ashes to Ashes
D2. The Motel
D3. Loving the Alien
D4. Changes
D5. I'm Afraid of Americans
E1. Heroes
E2. Bring Me the Disco King
E3. Slip Away
E4. Heathen (The Rays)
F1. Five Years
F2. Hang On to Yourself
F3. Ziggy Stardust
F4. Fall Dogs Bomb the Moon (Bonus Track)
F5. Breaking Glass (Bonus Track)
F6. China Girl (Bonus Track)