Published on
November 29, 2017
Category
News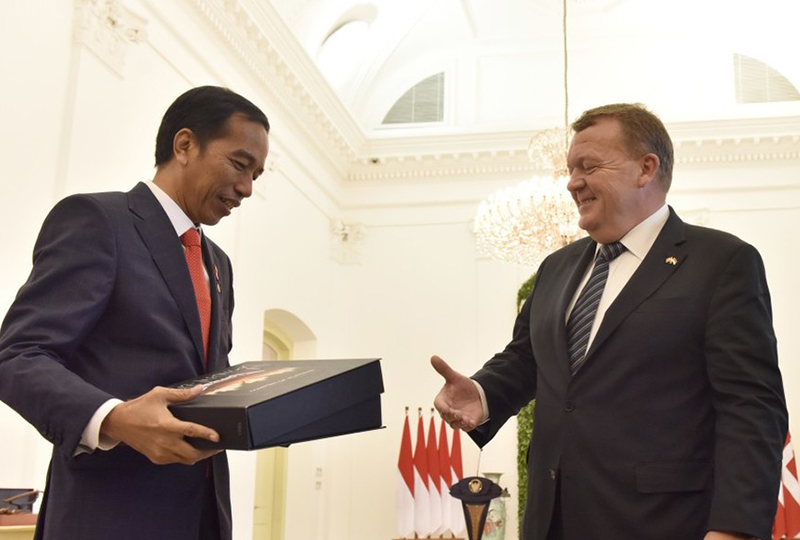 One for your country, and one for Discogs?
Heads of state exchanging diplomatic gifts is a tradition that has been practised for centuries. (In 757 Byzantine emperor Constantine V bestowed Pippin III of Francia with a mechanical organ.)
Typically this involves presenting the recipient with a fancy souvenir of sorts from the givee's nation, to show off its industrial capability, technological prowess, artistic flair, etc.
When Danish PM Lars Løkke Rasmussen visited Indonesian President Joko "Jokowi" Widodo at Bogor Palace this week to confirm their countries' new Energy and Waste Management partnership, he had a rather different idea.
After discovering that Jokowi is a longtime metal fan, Rasumessen bestowed the President with two deluxe, limited edition 30th anniversary copies of Metallica's 3xLP Master of Puppets box set, reports the Jakarta Post.
Indonesia's president @jokowi seemed eager to dig into his diplomatic gift from Denmark: A #MasterOfPuppets box signed by #heavymetal fans' all-time favorit drummer @larsulrich @metallica pic.twitter.com/Epcq2paywh

— Lars Løkke Rasmussen (@larsloekke) November 28, 2017
One of the sets was even signed by the band's drummer – and fellow Dane – Lars Ulrich, an addition that's sure to add to its value, both sentimental and otherwise.
In return, Jokowi gave Rasmussen a traditional Aceh dagger called a rencong. Here's hoping Jokowi will consider more revolutionary gift giving when they next meet.
(Photo courtesy of Indonesia's Cabinet Secretariat.)